HPAE President Twomey Testifies on Board of Nursing Crisis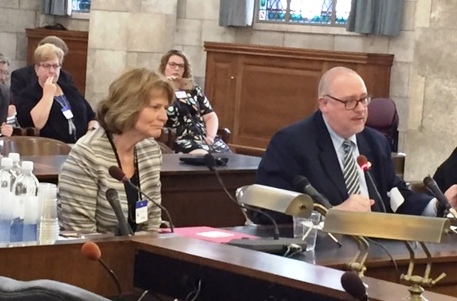 HPAE President Ann Twomey testified before the NJ Senate Legislative Oversight Committee on October 5th and called on the state government to provide adequate resources to ensure that the Board of Nursing has the staff and Board members to properly oversee the licensing and professional standards of 140,000 RNs in New Jersey.
Click here to read President Twomey's testimony.
Because of understaffing and vacant positions on the Board, nurses are being forced to wait two to three months to take their licensing exam. In addition, nurses face lengthy delays if they are appealing their employer's report of  potential infractions of practice standards. It may take more than a year for nurses to get their so-called "day in court."
At the hearing,  Assemblywoman Nancy Munoz (R-Union) a clinical nurse specialist, said that she would introduce legislation to connect nursing license expiration dates to a professional's birth month. Currently, licenses are issued for two years with a May 31 expiration date, resulting in a sudden influx in workload and an uneven revenue flow for the board, which is funded by licensing fees. According to Munoz, "the bill will provide a steady stream of funding throughout the year.  Spreading the workload throughout the year will give staff more time to process applications and prevent a backlog."
Click here to read an article about Munoz' proposed legislation.
In response to Munoz' proposal, President Twomey pointed out that "when an agency is managed as poorly as the Board of Nursing, changing the timing of when revenues are received will do nothing to address the crisis. Immediate action must be taken to streamline the operations of the board and appropriately staff the board so nurses can do what they do best, provide care for their patients."