Flu Epidemic Gives Urgency To Statewide Sick-Leave Law
Taken from NJSpotlight, February 27, 2018
By John Reitmeyer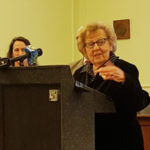 State and local officials push for paid sick time as a public-health issue in New Jersey, business leaders want a say because of 'economic impacts'
With Democrat Phil Murphy now in the governor's office instead of Republican Chris Christie, the stars appear to be aligning for those who've been advocating for years for a statewide earned sick-leave law. Adding new urgency to the effort this year, according to advocates, is New Jersey's ongoing flu epidemic.
Senate Majority Leader Loretta Weinberg appeared with several officials from the state nursing community yesterday to make the case that allowing all workers to earn paid time off is a matter of public health for New Jersey, which is being hit particularly hard by the flu this year.
Weinberg (D-Bergen) introduced a new paid sick-leave bill yesterday, and said she's working closely with Assembly sponsor Pamela Lampitt (D-Camden). She also laid out an aggressive schedule to get the legislation to Murphy's desk, possibly in a matter of weeks.
"This is not only about family values for the people we want to cover with earned sick leave, it's about healthcare for the people of New Jersey," Weinberg said during a news conference in the State House.