Ringwood addiction center set to open in former convent by mid-2018
Taken from NorthJersey.com, November 27, 2017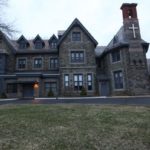 RINGWOOD — A 150-room substance abuse treatment center is on course to open next year at a former convent overlooking Ringwood State Park.
The property known as Mount St. Francis was the home of the Franciscan Sisters of Ringwood and later the Sisters of St. Francis of Philadelphia before 2010, when it closed due to a shrinking membership base. Tennessee-based American Addiction Centers bought the 92-acre estate in 2015 for $6.4 million, records show.
More than $16 million in upgrades were proposed in an ongoing project set to end by mid-2018, said Joy Sutton, public relations manager for American Addiction Centers.
American Addiction Centers' plan to convert the estate into an inpatient recovery center was approved by the Ringwood Planning Board in August 2013. As part of the approvals, company officials agreed to retain the original manor home but renovate it for recovery education purposes, records show.
The Sloatsburg Road manor stands out as the most visible of the North Jersey town's famed estates.