Rutgers Union Coalition Action at the Board of Governors!
By Phil Wilson, Local 5094 Co-Secretary, Newark Campus
Wednesday February 7 was a cold day with a mix of rain and snow falling. Eight HPAE Representatives are on their way to the Board of Governors meeting at Rutgers Newark. We are in good spirits as we head down to the gathering.
As we drove toward the event Tom Murphy (Local 5094 Co-President) prepared his speech.  The other representatives in the car took turns navigating the driver and getting us fired up!
When we arrived at the Robeson Center the sidewalk was slippery and icy.  But the cold treatment didn't stop outside.  We were stopped by what looked like undercover security when we tried to enter the room.  Their reason was that the room was filled to capacity.  As a scheduled speaker, they allowed Tom in right away. The rest of us eventually got in as well, but not without a bit of work.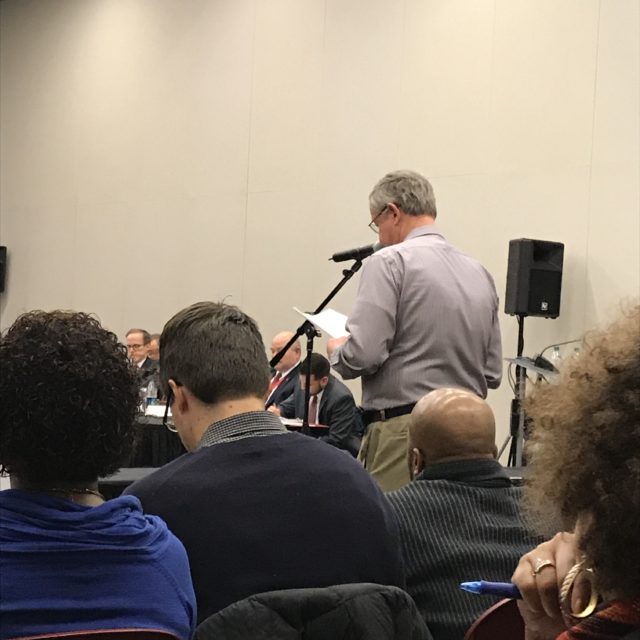 As we walked in, President Barchi was speaking and I could immediately see all of the signs from Coalition partners.  Representatives from HPAE were already in the room as were other members of the Rutgers Union Coalition.
After some presentations, pre-arranged speakers were allowed to voice their opinions and concerns.  Of note was a Professor who asked Barchi and the Board of Governors to stop having talks about talks, but instead to sit-down to negotiate.  Tom Murphy expressed the concerns of HPAE and the Coalition that Rutgers needs to negotiate now!  One fiery student jumped up who was not scheduled to speak, but after refusing to sit, she was allowed to state her complaints.  A noteworthy moment was when a reporter from a local newspaper cornered one of the Board of Governors members about familial ties with a member on the RWJBarnabas Health Board of Trustees.
This was my first time at an event like this.  The weather outside matched the demeanor of the Board of Governors.  When members of the Coalition spoke, they were greeted with stoic faces which seemed to have been practiced and perfected.
On our ride back, grievance chair Mendes Toussaint assured me this was a positive outcome.  He said that our display of unity and the things that were said would have an impact on the future of our negotiations.  I was happy to see the enthusiasm of Coalition partners and the motivation of the passengers in our car.  I would gladly go again and do this and more.  This experience made me glad to be part of such a proactive union.