University Hospital, others actively fighting trauma designation for Trinitas
Taken from ROI-NJ, April 18, 2018
By Anjalee Khemlani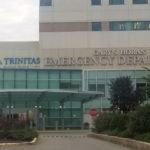 Officials at University Hospital in Newark, as well as more than a dozen elected officials in the Newark/Essex County area, are actively fighting the attempt by Trinitas Regional Medical Center in Elizabeth to become a Level II Trauma designated center by sending six letters of opposition to the Department of Health, ROI-NJ has learned.
Individual letters from Newark Mayor Ras Baraka, Newark Municipal Council President Mildred Crump, Assemblywoman Nancy Muñoz (R-Summit) and U.S. Rep. Donald Payne (D-N.J.), as well as a letter signed by 10 elected officials and one from the hospital itself were sent.
The letter signed by Sens. Teresa Ruiz, Ronald Rice and Nia Gill, Assemblymen Thomas Giblin and Ralph Caputo, and Assemblywomen Eliana Pintor Marin, Mila Jasey, Cleopatra Tucker, Shanique Speight and Britnee Timberlake (all Democrats from the Newark/Essex County area) gave the overall position.
"University Hospital advises that, should Trinitas receive a trauma designation, it would cause financial ruin to the hospital and that the hospital would have no choice but to shutter many, if not all, the vital health services it provides to the local community," the letter said.
The letters were addressed to John Calabria, the director of the Division of Certificates of Need and Licensing at the state Department of Health.
All of the letters were reviewed by ROI-NJ.
University Hospital CEO and President John Kastanis and board Chairman Robert Johnson asked for the Trinitas Level II Trauma application to be rejected in a six-page letter dated April 12.
Kastanis said 87 percent of University Hospital's caseload comes from a 10-mile radius surrounding Trinitas.