Education, Healthcare Unions Endorse Andy Kim for Congress
May 8, 2018
Nurses and educators reject MacArthur attacks on health and education systems
The American Federation of Teachers New Jersey (AFTNJ) and Healthcare Professionals and Allied Employees (HPAE), collectively representing more than 40,000 education and healthcare professionals in New Jersey and 1,300 within the 3rd Congressional District, have announced a joint endorsement of Andy Kim, a candidate who said he is motivated to run for the Congressional seat to protect residents' access to health care and quality public education.
"Andy Kim is committed to stopping the attacks on health and social security programs that keep Americans healthy and for improving education for future generations," said Donna M. Chiera, AFTNJ President. "In contrast, Rep. MacArthur's positions are lock-step in line with a federal administration that is actively trying to take healthcare away from Burlington and Ocean county residents, is demonstrably hostile to public education and voted against common-sense gun reforms such as denying gun purchases to known or suspected terrorists while supporting expanding concealed gun carry legislation to New Jersey," Chiera said.
HPAE President Ann Twomey said, "Nurses and teachers are on the frontlines of our nation's opioid and gun violence crises working to prevent and protect senseless acts of violence in our hospitals and schools. Yet the GOP leadership, including Rep. MacArthur, have done little to stand up to the corporations who have profited from skyrocketing sales of opioids and assault weapons that have fueled these crises." Rep. MacArthur has been resistant to change his position on gun violence, including refusal to consider an assault weapons ban, which earned him a 93 percent approval rating from the NRA."
Union members endorsed Kim based on these issues, according to Twomey, "Andy Kim will represent the interests of working people, not the interest of corporations who are profiting off of the most vulnerable in our society."
This endorsement comes on the anniversary of Rep. MacArthur's vote on Trumpcare, a bill he wrote along with retiring Wisconsin Representative and House Speaker Paul Ryan that attempted to take away healthcare from 23 million Americans, according to Twomey. "Nearly a half-million New Jersey residents would have lost access to health care including almost 30,000 in the 3rd Congressional District, where the patients our nurses and healthcare workers see at Virtua Health and Southern Ocean Medical Center would have suffered significantly," she said. "With every other representative from New Jersey rejecting the Trump Administrations attempts to erode the Affordable Care Act, Congressman MacArthur is the lone vote for putting the interest of corporations ahead of the residents of this state," said Twomey.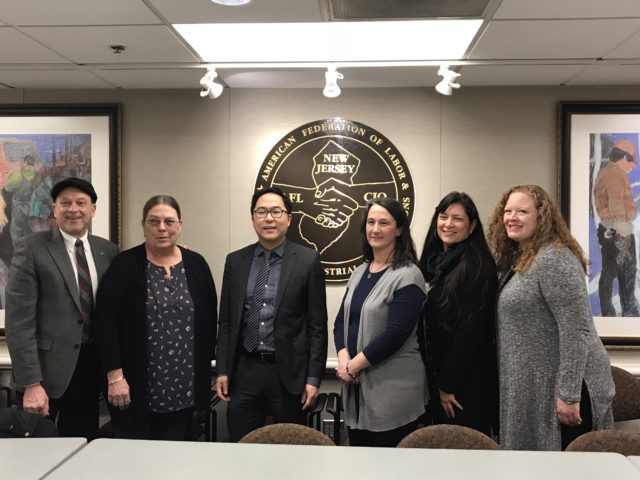 HPAE and AFTNJ are affiliated with the American Federation of Teachers, representing 1.7 million teachers, paraprofessionals/school-related personnel, higher education faculty, public employees and healthcare workers.  Learn more at www.aft.org .
AFTNJ represents 30,000 education workers in New Jersey in pre-kindergarten through 12 school districts, private, charter and religious schools and is the largest higher education union in the state representing faculty and staff at all public four-year colleges and universities and 11 community colleges. Learn more at www.aftnj.org .
HPAE is the largest union of registered nurses and health care professionals in New Jersey. Since its founding by Englewood Hospital nurses in 1974, HPAE has expanded across the state and into Southeastern Pennsylvania representing 13,000 nurses, social workers, therapists, technicians, medical researchers, and other health care professionals in hospitals, nursing homes, home care agencies, blood banks, and university research facilities.  Learn more at www.hpae.org .