Health union rallies as contract deadlines loom at three Hackensack Meridian hospitals (video)
Taken from NorthJersey.com, June 27, 2018
By Linda Washburn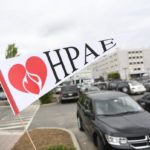 Health care workers at three of Hackensack Meridian Health's hospitals in Hudson and Monmouth counties rallied on Wednesday in a show of union solidarity as contract deadlines affecting 2,500 employees loom.
The ongoing contract talks mark the first time four union locals have negotiated together with Hackensack Meridian, which was formed in 2016 through the merger of Hackensack University Health Network and Meridian Health.
The locals are members of Health Professionals and Allied Employees, the state's largest health-care union, with about 13,000 members.
Two locals — representing about 1,000 employees at Palisades Medical Center in North Bergen and 250 at The Harborage, its affiliated nursing home — were the first unionized nurses to join Hackensack's workforce when Palisades was acquired in early 2016, shortly before the larger system was formed.
About 100 union members, some wearing the union's bright red T-shirts over their blue hospital scrubs, gathered on the Hudson River walkway outside the North Bergen hospital at noon, just after the U.S. Supreme Court announced its decision in a highly anticipated labor case.
Later in the day, members of the union representing workers at Jersey Shore University Medical Center in Neptune and Southern Ocean Medical Center in Manahawkin, both of which are owned by Hackensack Meridian, gathered at a park in Ocean County.