Newark Hospital No Longer Plans To Outsource Pediatrics: Reports
Taken from the Newark Patch
By Eric Kiefer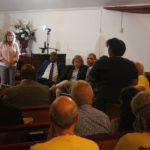 NEWARK, NJ — Administrators at New Jersey's largest public medical center, University Hospital, have put the brakes on a plan to transfer inpatient pediatric services across the city to the privately owned Newark Beth Israel Medical Center, reports say.
Amid a wave of public opposition, University Hospital in Newark has withdrawn an application to the Department of Health to reduce its pediatric services by more than 80 percent, Politico reported. Under administrators' plan, pediatricians would have continued to provide outpatient and preventative treatment at University Hospital, but children needing longer-term care would have been transferred three miles south to Newark Beth Israel Medical Center, which is part of RWJBarnabas Health.
University Hospital now has plans to "keep the unit operating at its current level," a spokesperson told NJ.com. Administrators previously said that the intensive care unit for pediatrics was often closed and only three to four children required inpatient services a day.
The decision comes on the heels of protest from local community groups, labor leaders and staff members, who have been rallying against the hospital's plans for weeks.
Earlier this month, the Health Professionals and Allied Employees (HPAE) union helped to spearhead a town hall meeting at Ebenezer Baptist Church in Newark to discuss their concerns about the outsourcing plan.