Governor Appoints Monitor For Newark's Troubled University Hospital
Taken from NJSpotlight
July 31, 2018
By Lilo H. Stainton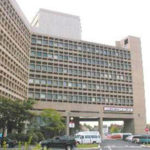 Alarms sound over shortcomings in quality of care and financial soundness. Murphy moves swiftly to tackle problems.
Trouble at University Hospital in Newark, the state's only public acute-care facility, has been brewing for a while, with various monitoring agencies and advocacy organizations sounding the alarm about the quality of care, financial stability, and its role as a community institution.
On Friday, Gov. Phil Murphy responded, signing an executive order that required the state Department of Health to appoint a monitor to oversee the hospital's affairs indefinitely. DOH Commissioner Dr. Shereef Elnahal selected longtime healthcare executive Judy Persichilli, a nurse and New Jersey Health Care Quality Institute board member.
"Given the scope of the problems found at University Hospital, these immediate actions are necessary to ensure the facility can continue providing the highest level of care to the community while it gets its fiscal house in order and improves its health care quality,'' Murphy said.
Local officials, healthcare advocates and the nurses' union embraced the move, and hospital officials said they were eager to work collaboratively with Persichilli. University Hospital, which has nearly 500 beds, is slated to receive more than $100 million this year in state funding, including more than $46 million in charity care to help pay for its high number of uninsured patients.
Elnahal said the goal is to help University Hospital maintain its status as the region's Level 1 trauma center, designed to address critical injuries and mass casualty incidents like the Paramus school bus crash. Persichilli will focus on ensuring quality of care, implementing best-practice protocols and installing a quality officer, and improving the hospital's economic sustainability to reduce its dependence on state funds, according to the commissioner.