Amid student wage and faculty protest; Barchi announces free speech panel, strategies to undo RU screw
Taken from The Daily Targum
By Christian Zapata and Ryan Stiesi
September 9, 2018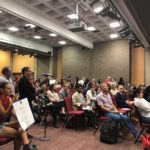 Fall semester's first University Senate meeting ended with uncertainty about the future of faculty contract negotiations, updates to Rutgers student services and the announcement of a free speech advisory panel at Rutgers.
At approximately 12:30 p.m. on Friday, members of the American Association of University Professors and American Federation of Teachers at Rutgers (Rutgers AAUP-AFT), alongside the Rutgers chapter of United Students Against Sweatshops (RUSAS) and other organizations met at the College Avenue Student Center calling for "fairness and bargaining" and the preservation of health services.
Faculty contracts expired July 1, according to The Daily Targum. Since then members of the union have been working on expired contracts, which has created uncertainty among union members.
"While Rutgers President Robert Barchi has a two-year extension at Rutgers, 20,000 workers are working without a contract and University management is negotiating a questionable deal to privatize vital public health resources …," organizers said in a media alert.
Earlier this month it was announced that Barchi would stay on as University president for at least two additional years, according to the Targum. Though he said he will not receive a raise, protesters have long taken issue with Barchi's $676,260 yearly salary — which by their calculation equates to $325 an hour — as of early 2016, according to an article from NJ Advance Media.
The last update made to Barchi's salary was a 2-percent pay raise that year — retroactive to the year before (2015) — with a $97,000 bonus eligible to increase at his next performance review due to the pay bump, according to the article.
Throughout the meeting, members from both organizations stood with picket signs raised at the back of the room, hollering ad-lib commentary about their grievances with Barchi's handling of these issues — "Bargain with the Union," "Do your job" and "You expanded your contracts, how about the workers?" to name a few.