Rutgers workers rally in New Brunswick for contract negotiations
Taken from MyCentralJersey.com
By Nick Muscavage, Bridgewater Courier News
September 22, 2018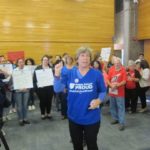 "In the last few days, the president of this university could figure out the politics to get himself an extension of his contract," said American Federation of Teachers (AFT) President Randi Weingarten, who represents more than 14,000 Rutgers workers, referring to Barchi's recent two-year contract extension. "We want him to be at least as concerned about the people who actually do the work as he is for himself."
Rutgers faculty are jointly represented by AFT and the American Association of University Professors (AAUP), whose president, Rudy Fichtenbaum, called on Rutgers management to pursue an "agenda of the people, rather than a corporate agenda."
"Higher education is a public good, but without justice for the people who work here, this enterprise cannot be successful," Fichtenbaum said in a statement.
According to the university, the negotiations are ongoing.
"President Barchi's employment terms are open-ended. The Board requested that he remain as university president for a period of at least two years, including this academic year, and President Barchi accepted," said Dory Devlin, senior director, university news and media relations.
As for the workers' contracts, "The current collective negotiations agreements continue in effect until new agreements are negotiated," she said.
The unions had members speak on behalf of their cause.
Justin O'Hea is a mental health worker and member of the Healthcare Professionals and Allied Employees (HPAE) local at Rutgers, which would be involved with the recently-announced agreement with RWJBarnabas.
"Our institution could be privatized," O'Hea said, according to a news release. "We provide services to a community of very vulnerable people who could be marginalized so we want to be included in negotiations that could impact our clinical mission. We are concerned about the possible erosion of services we provide so I'm here to bring the issue to Barchi and chancellor (Brian) Strom."