11th child dies in Wanaque virus outbreak; state calls in medical volunteers
Taken from NorthJersey.com
November 16, 2018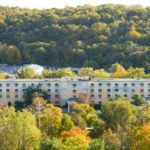 An 11th child has died in the adenovirus outbreak sweeping through a nursing home in Wanaque that cares for severely disabled children, and another was diagnosed with the virus on Thursday night, the state Health Department said Friday.
With no end to the crisis in sight, the state health commissioner has taken the highly unusual step of asking respiratory therapists, nurses and nurses' aides who have experience caring for chronically-ill children and are members of the state's Medical Reserve Corps to volunteer for work at the long-term care center.
The Wanaque Center for Nursing and Rehabilitation has been battling the outbreak for seven weeks, and 34 children and one staff member have become ill with symptoms.
The most recent death came Thursday night, around the same time as adenovirus was confirmed in another child who developed symptoms on Monday — evidence that the steps taken so far have been inadequate. The virus has an incubation period of three days to two weeks.
"We are devastated at the loss of another one of our residents," Rowena Bautista, the center's administrator, said in a statement issued Friday afternoon. "We continue to extend our sympathies to all the families impacted."
The center has "cooperated fully with the New Jersey Department of Health to meet all of their requests and requirements," she said.
Read more here.