Report: University Hospital needs 'transformational leader'
Taken from NJ.biz
December 10, 2018
By Anthony Vecchione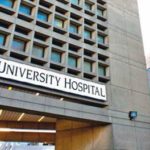 A report by veteran health care executive Judith Persichilli concludes University Hospital in Newark, the state's only public hospital, needs a transformational leader, new vision and management team focused on quality improvement and safety.
The report by Persichilli, who was appointed by Health Commissioner Dr. Shereef Elnahal in July to review expenditures and assess the level of care provided at the 467-bed hospital, comes days after John Kastanis, the hospital's president and CEO, said he was stepping down effective this Friday in the wake of controversy over the deaths of three premature infants that may have been caused by a bacterial infection in the neonatal intensive care unit.
According to the report, in the five years since University Hospital separated from the former University of Medicine and Dentistry, the hospital "has not leveraged its unique position to focus on developing a culture of high performance.''
An executive order signed by Gov. Phil Murphy directed the appointment of a monitor after the hospital received a failing grade on quality of care from nonprofit watchdog The Leapfrog Group; had its bond rating downgraded four notches due to financial difficulties; and attempted to reduce the number of pediatric beds without state approval.