State must update regulations for for-profit hospitals
Taken from NJ.com
March 25, 2019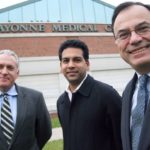 The State Commission of Investigation report released this week on the byzantine business structures behind three Hudson County hospitalsrevives that queasy feeling we get when linking the words "for profit'' with traditionally public service organizations.
As with for-profit schools, it just makes one worry about where allegiances lie in a vital industry.
According to the SCI report, the owners of the three CarePoint Health hospitals – Bayonne Medical Center, Christ Hospital in Jersey City, and Hoboken University Medical Center – involve a series of some 20-plus limited liability corporations and trusts controlled in varying measures by three men – Vivek Garipalli, James Lawler and Jeffrey Mandler.
Despite having no employees, two of those LLCs – IJKG and Sequoia Healthcare Management – charged the hospitals a combined $157 million in management fees for the years 2013 to 2016, the report said.
In sworn testimony, Mandler called the fees payment for the three men's "sweat equity'' and Garipalli called them "incentive payments'' to be made only if the hospitals are successful.
The report, which is aimed more at the state Department of Health and the state Legislature than at CarePoint, rightly notes that, had the current owners not taken over, the three hospitals had been bankrupt and could have closed, leaving gaping holes for the community.
"It should also not be overlooked that owners of for-profit hospitals take on burdens and risks that are not faced by nonprofit executives, many of whom receive significant salaries and other compensation," the report notes. "However, such remuneration to nonprofit executives is, at least at some level, already required to be disclosed via IRS Form 990s, which are publicly available."