Local 5106 Round Table Discussion with Senator Robert Casey, August 6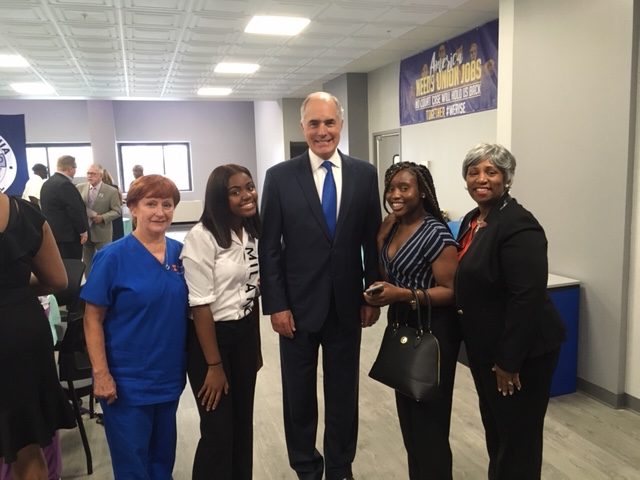 Sue Clements, Local 5106 VP, joined other union leaders on Tuesday, August 6, 2019 for a discussion of the issues affecting workers in our present political climate.  Senator Casey spoke on the continued assault on workers commenting on some specific issues.
The Tax Bill of 2017 did not deliver to the middle class as promised, but it did
Accelerated the movement of jobs overseas
Gave enormous tax break to the top 1%
Did not help workers
Took away deductions for union dues and work expenses
U.S Supreme Court
With five Republican justices and four Democrats, it is now a corporate court
The Janus decision eliminating fair share dues for public sector employees is just the beginning
This corporate court will try to take away workers right to organize
Senator will fight to change:
Tax Bill
To Stop undermining regulations in the work place
To reverse the anti-union climate
Job Losses
Closure of the oil refinery in South Philadelphia will wipe out 30,000 jobs in the refinery and associated business. $16 billion in the economy will be wiped out
Hahnemann Hospital pending closure. Trying to maintain access to care and provide jobs.
Gun Violence
The Senate needs to spend a week passing at least one common sense gun bill
According to Christoper Wray, Director of FBI, the majority of the domestic terrorism cases that have been investigated are related to White Supremacy.
There needs to be increased funding for homeland security
Guns are an American problem. Politicians cannot surrender to the problem
Attacks on Workers/Veterans
Trump's executive order deprived federal workers of BU rights
Veteran deprived of rights
The next case before the Supreme Court could take away private sector right to organize
Affordable Care Act
The threat of repeal of the ACA remains very real as the case is being considered in the courts
The administration has sabotaged the exchange by cutting the advertising budget by 90%
There are continues threats to cut Medicare, Medicaid and Social Security