AFT members dive into candidate endorsement process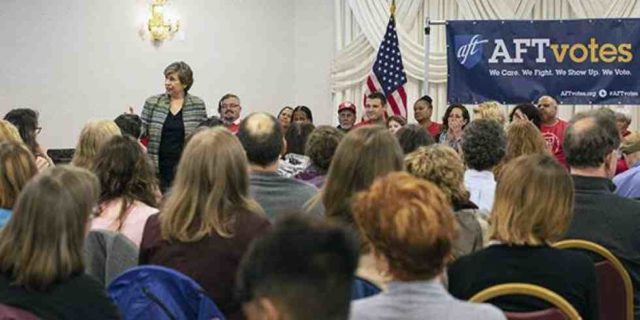 As the presidential elections inch closer and the field of candidates gets more and more competitive, AFT members are engaging, parsing campaign platforms, asking questions of the candidates, and voicing their priorities as educators, healthcare practitioners and public employees. Thus far, the AFT has hosted eight AFT Votes town halls in eight different locations across the country, giving members the opportunity to meet candidates in person and hear about their stands on education, working families, healthcare and other top-line issues. More town halls are being scheduled.
The town halls are part of the AFT's robust endorsement process—a process designed to get candidates in front of AFT members and to ensure the highest level of AFT member participation ever. The process gives members opportunities to learn about presidential candidates and assess whose policies and proposals best reflect our values.
These opportunities are frequently paired with more intimate conversations with small groups of AFT leaders and rank-and-file members, who get to engage in exchanges about the challenges and realities of their lives as public workers—everything from public school funding to student debt, inadequate healthcare, safe staffing for nurses, mental health care and more.
The most recent town hall was with presidential candidate Montana Gov. Steve Bullock(link is external), who met with members of the Washington Teachers' Union in Washington, D.C., Sept. 19. Other AFT Votes town halls have featured former Vice President Joe Biden(link is external), Sen. Kamala Harris(link is external), Sen. Amy Klobuchar(link is external), former Rep. Beto O'Rourke(link is external), Rep. Tim Ryan(link is external), Sen. Bernie Sanders(link is external) and Sen. Elizabeth Warren(link is external). Upcoming town halls include one with Julian Castro on Oct. 2 in Las Vegas. Each of the town hall events is available on video at AFT Votes(link is external).
There is also video of candidates sending greetings(link is external) and support to participants at the AFT's TEACH conference in July 2019.
To engage even further, the AFT Votes page links to a survey(link is external) that gives members the opportunity to share their voices on the issues most important to them. Are you concerned about adequate numbers of counselors and nurses? The student debt crisis? Protecting the environment? Fixing the immigration system? Advancing racial and social justice? The list is long, and the survey also allows members to write in additional concerns.
For more on the endorsement process, visit www.aftvotes.org(link is external).
The AFT has also sponsored debate-watch parties, and offers a debate-watch toolkit(link is external) so activist members can hold their own gatherings and join other people in their communities to keep up with the latest in the presidential campaign.
"Our No. 1 goal is to elect a president who shares our values, and that means beating Donald Trump," says AFT President Randi Weingarten. "But to win our endorsement, candidates will have to walk the walk, not just talk the talk. As we look ahead to Election Day, we are committed to engaging our members every step of the way."
Learn more about AFT Votes here.
Watch Candidate Messages and other election related videos here.