As Rumors Swirl Davis Vows to Fight Efforts to Close Bayonne Medical Center
Taken from TapintoBayonne
October 21, 2019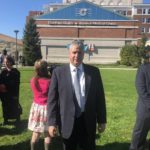 BAYONNE, NJ – Local, county, and state officials were joined by union leaders and more than two dozen staff and residents to "sound the alarm" on what Mayor Jimmy Davis called an impending "major health crisis" in Bayonne.
The usually mild-mannered Davis held nothing back demanding that hospital officials at both Bayonne Medical Center and RWJ Barnabas Health, provide answers to reports that the largest health care delivery system in the state is set to purchase, and subsequently close, the local hospital that has provided care to generations of local residents for over 100 years.
According to Davis, he received a phone call on Thursday alerting him to the impending transaction and immediately sprung into action. With four out of five members of the Bayonne City Council, the full complement of legislators from the 31st District, and both local and state leaders of HPAE, the union that represents more than 850 employees inside the hospital, Davis demanded that he immediately be given "a seat at the table" in any further discussions that impact the health of the community he leads.
"If you want to close this hospital," Davis said, "you'll have to come through me."
Davis went on to recall that when RWJ/Barnabas initially opened their care center on Broadway just over two years ago he was assured by Joe Scott, Executive Vice President, Health Care Transformation, RWJ/Barnabas Health, the system that has reach as far south as Mercer County, that if Bayonne Medical Center ever became available for sale they'd buy it to fill their demand for additional patient beds.
In past days, Davis said, the hospital executive said that no deal was imminent, but failed to refute the existence of ongoing discussions.
Citing statistics that Bayonne Medical Center received 27,000 ER visits in 2018, nearly 74 a day, Assemblyman Nicholas Chiarvalloti, offered that the facility was absolutely needed. "With the growth of Bayonne," under Mayor Davis' leadership the state legislator added, "we can not afford to lose our hospital."
Hudson County Executive DeGise also spoke, reflecting on hospital closures he has fought, two in Jersey City and one in Kearny, during his time in office. "This is more than just a rumor, there are absolutely negotiations going on," he said, adding that the failure to include local officials amount to a "betrayal to the people of Bayonne."