Hackensack Meridian computer disruption delayed patient care, nurses union says
Taken from the Asbury Park Press
December 10, 2019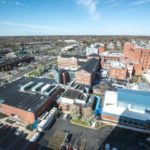 Hackensack Meridian Health patients last week ran into delays and disruptions after the health care system's computer network went down for two days and slowly came back online, an official from the nurses' union said Monday.
Bridget Devane, spokeswoman for the Health Professionals and Allied Employees union, said nurses couldn't rely on computers to do basic tasks, like deliver lab results quickly or provide accurate information about patients' medication.
"From our members' perspective, it meant they had to revert back to the old system of doing everything by paper, which created complications on the floors and delayed a lot of information they wouldn't have typically had to wait for," Devane said.
Edison-based Hackensack Meridian is New Jersey's biggest health care system, with 17 hospitals, $6 billion in annual revenue and more than 35,000 employees. Locally, it owns Jersey Shore University Medical Center in Neptune; Riverview Medical Center in Red Bank; Bayshore Medical Center in Holmdel; Ocean Medical Center in Brick; and Southern Ocean Medical Center in Stafford.
It is part of an industry that has been prodded by the government for the last decade to move online more quickly to deliver care more efficiently and with fewer mistakes.
Hackensack Meridian hasn't disclosed the cause of the disruption, saying only that it was caused by "externally driven incident."
It said last week that it rescheduled a small number of non-emergency procedures. And its core clinical systems were back online by Friday.
"We continue to work with outside experts to analyze this disruption in our IT system and will have more information to share once the investigation is completed," a company spokesperson said Monday. "Our team continues to work diligently around-the-clock to provide safe and high-quality patient care."