Suspected N.J. coronavirus patient tests negative
Taken from NJ.com
January 29, 2020
By Spencer Kent | NJ Advance Media for NJ.com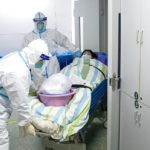 A patient suspected of having the new coronavirus has tested negative, New Jersey health officials said Tuesday.
A day earlier, the New Jersey Department of Health said it was investigating a possible case of coronavirus, the deadly virus responsible for an outbreak in China that has spread to more than a dozen countries.
But tests conducted by the Centers of Disease Control and Prevention "came back negative," the state Health Department said in a statement.
"There is no other person in New Jersey under investigation at this time," the statement said.
The announcement comes just days after New Jersey health officials investigated another suspected case in the state — a woman in her mid-20s who was ultimately cleared by doctors after being taken to Hackensack University Medical Center.
The outbreak of the new coronavirus has infected more than 4,500 people and killed more than 100 others — largely in China, where the outbreak began.
There have been five confirmed cases in the U.S.: a man in Washington State; a woman in Chicago; a patient in Los Angeles County, California; a man in Orange County, California; and a patient in Arizona. More than 100 additional people in 26 states are being tested for the disease.
In a joint statement on Tuesday, U.S. senators Bob Menendez and Cory Booker announced Newark Liberty International Airport would be added to the list of ports of entries that are screening travelers for the coronavirus, a measure the two senators had been repeatedly pushing for.