Ignoring Nurses is Bad Medicine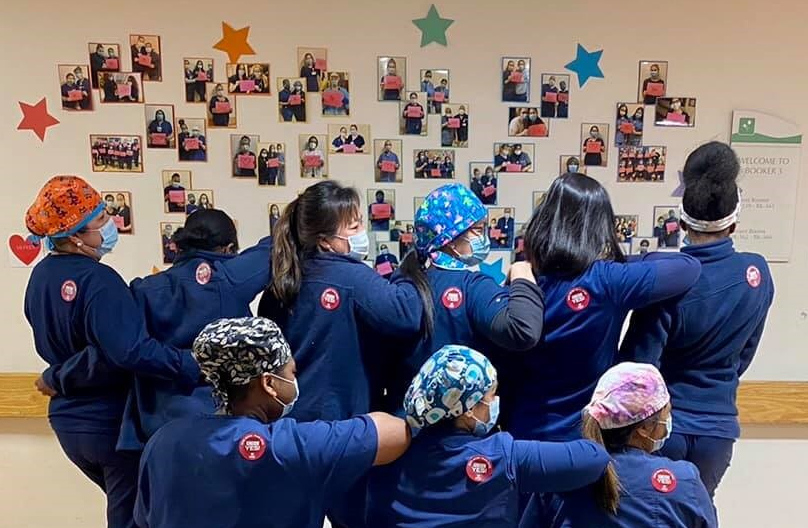 Unionized Nurses who have been negotiating a new contract with Hackensack Meridian Health (HMH) will hold a job action on June 21 and 22 because of lack progress at the bargaining table with their employer.
The 1,500 nurses represented by HPAE Local 5058 at Jersey Shore University Medical Center and HPAE Local 5138 at Southern Ocean Medical Center have bravely cared for thousands of patients on the COVID-19 pandemic frontlines.
At the bargaining table, HPAE Nurses are fighting to protect the health and safety of workers and patients.
Frontline workers deserve a voice in pandemic preparedness in their facilities to ensure healthcare workers have adequate PPE supplies. Nurses must be informed, trained and ready for any future pandemic outbreaks.
Nurses, like doctors, build experience and are trained in specialized areas. Nurses have fought for restrictions on "floating" to units outside of their designated skill level and they are fighting to keep those protections in their contract for patient safety.
Nurses need the support and work of colleagues who surround them, like housekeepers, transporters and unit clerks. They rely on the whole healthcare team to keep everything around them running smoothly so they can focus on providing patient care.
Hackensack Meridian Health is  looking to have nurses assume the work of the support staff,  thereby taking them away from the bedside during a pandemic when patients need them the most.
Hackensack Meridian Health for over a year has not properly paid the nurses due to payroll errors. Many nurses during this pandemic have not been able to count on correct paychecks. Nurses are asking for transparency and accountability to ensure they are informed of errors affecting their pay and benefits.
All nurses and healthcare workers at Hackensack Meridian Health facilities must be treated as respected partners in preparing for any future pandemic outbreaks. Working together is the only way to provide quality care –while keeping both patients and their caregivers safe.
STAND WITH YOUR HPAE NURSES.
They're fighting for us on the frontlines of healthcare.
Upcoming Events
No upcoming events at this time.