Send a message to AAC CEO Michael Cartwright!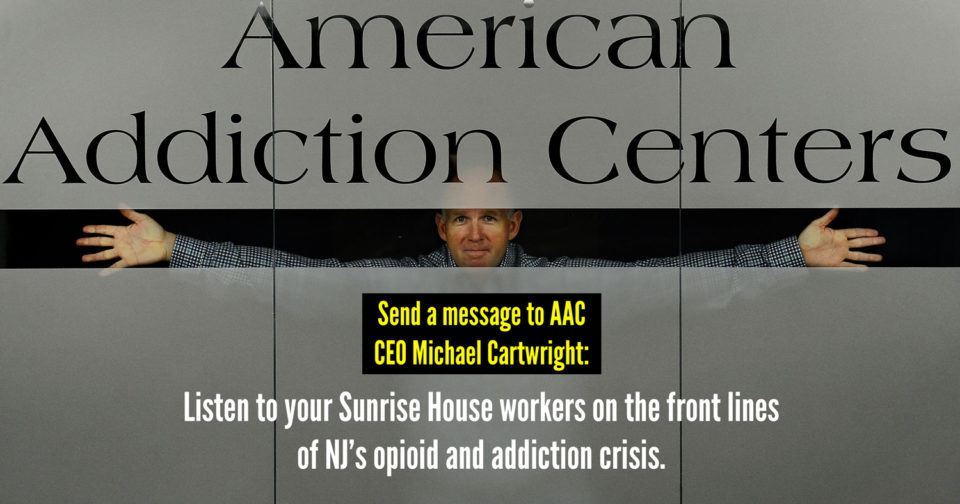 At a time when New Jersey is facing an opioid crisis, we need your help to tell the CEO of American Addiction Center, Inc. (AAC) to come to the table to create a safe environment for patients and workers on the front-lines of addiction treatment.
Take Action: Send a message to AAC's CEO, Michael Cartwright, and the Board of Directors to tell AAC to bargain to improve patient and staff safety so patients receive the treatment they need to recover from their addiction.
The 120 addiction treatment workers at Sunrise House, an inpatient detox and rehab facility purchased by the for-profit AAC in 2015, voted to join HPAE in June 2016 and have been negotiating for a first contract with AAC for the past nine months.
Workers are fighting against unfair unilateral changes and for safe staffing, living wages, and improved safety conditions for both the staff and patients.
However, AAC has not been bargaining in good faith nor with the frequency necessary to resolve these issues. If AAC does not make a good faith effort to reach an agreement by Wednesday, May 24th, the workers will conduct an Unfair Labor Practice (ULP) three-day strike at the facility in Lafayette, NJ.
AAC is under investigation by the National Labor Relations Board for failing to bargain in good faith, making unilateral changes, discriminating against a union activist, and for failing to provide necessary information. AAC's numerous unfair labor practices have made reaching a fair deal very difficult.
AAC is also under investigation by the Occupational Safety and Health Administration for complaints of unsafe health and safety conditions at Sunrise House.
In our current opioid epidemic, quality substance abuse treatment is essential. When people with substance abuse problems take the brave step of seeking treatment, they deserve the best possible chance for success.
AAC's refusal to bargain in good faith to improve patient safety and safer staffing, short-changes those seeking treatment.
Tell AAC CEO Michael Cartwright and Executives to bargain in good faith for the good of staff so that patients can have the very best chance at making a positive change in their lives.