Local 5030 negotiations update: mediator joins bargaining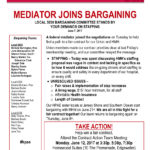 A federal mediator joined the negotiations on Tuesday to help find a path to a fair contract for our Union and HMH.
Union members made our contract priorities clear at last Friday's membership meeting, and our committee relayed the message.
STAFFING – Today was spent discussing HMH's staffing proposal was vague in content and lacking in specifics as to how it would address the on-going chronic short staffing to ensure quality and safety in every department of our hospital, on every shift.
UNRESOLVED ISSUES –

Fair raises & implementation of step increases
A living wage, $15/ hour minimum, for all staff
Affordable Health Insurance
Length of Contract
Our HPAE sister locals at Jersey Shore and Southern Ocean start bargaining with MHM on June 21st. We are all in this fight for a fair contract together! Our team returns to bargaining again on Thursday, June 8th.
Take Action!
Attend the Contract Action Team Meeting:
Monday, June 12, 2017 at 3:30p, 5:30p, 7:30p
Homewood Suites (10 The Promenade, Edgewater)