One of N.J.'s largest hospital chains looking to expand its turf with another big merger
Taken from NJ.com
March 21, 2019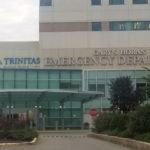 Trinitas Regional Medical Center in Elizabeth is in confidential negotiations to join one of the state's largest hospital systems, continuing a decade-long frenzy of mergers in New Jersey's fierce healthcare market, NJ Advance Media has learned.
RWJBarnabas Health and the Catholic hospital signed an agreement about six months ago "to explore a transaction, and conduct the research that both of us would agree would be needed to support a transaction if we wanted to do one," said Barry Ostrowsky, RWJB's president and CEO.
Ostrowsky said he expected a decision would be announced within the next 90 days.
There are 71 acute-care, full service hospitals in New Jersey, and all but 13 are part of a larger system of two or more institutions. A frenzy of mergers began about a decade ago, as rising premiums, market forces and the Affordable Care Act, shifted the focus away from inpatient treatment and to outpatient care and preventive health.
"In the not too-distant-future, independent hospitals will be an endangered species — not because they are not great or are not attentive to the needs of the community, as they have been for generations. It's a difficult business to be in on a stand-alone basis," Ostrowsky said.
Most independent hospitals in New Jersey, "are evaluating or choosing a system or partner. So those discussions are being conducted by many of the usual suspects," he said.
In 2016, Moody's Investor Service identified Trinitas as one of the most vulnerable independent hospitals in the state. Its inner-city location and importance as a "safety net" for people who lack insurance or rely on Medicaid made Trinitas' position that much more precarious, the report said.