Creating & Providing Peer to Peer Support
Co-Provided by AFT and HPAE
Presented by the NJMHA Faculty
2 Contact hours
Presenter: Kelly Uhland, BA, CPRP
Please sign up for one of the sessions below (select one).
Click here to register for the May 9 @ 12:00 pm course.
Click here to register for the May 9 @ 6:30 pm course.
Click here to register for the May 16 @ 12:00 pm course.
Click here to register for the May 16 @ 6:30 pm course.
Course Information: Will be addressed through a two-hour skill building webinar to provide participants with the basic knowledge of how to start and operate a peer-to-peer self-help group. This will provide the skills necessary to continue to operate the support groups initiated by this project. The MHANJ's NJ Self Help Clearinghouse Project will provide ongoing technical assistance and training to support his effort.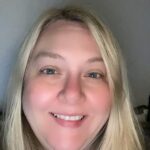 Presenter Bio: Kelly Uhland is the Assistant Director of Education and Outreach with the New Jersey Self-Help Clearinghouse and Consumer Connections at the Mental Health Association in New Jersey. She is certified by the Copeland Center as an Advanced Level WRAP Facilitator, is a Certified Psychiatric Rehabilitation Practitioner, and a Master Digital Peer Support Trainer. Kelly has worked in a variety of direct service settings in community mental health and is committed to providing effective education and support the peer workforce and the support group facilitators throughout New Jersey.
---
Outcome: Learners will acquire knowledge as to the benefit of peer support and information to create and operate a new Peer to Peer Support Group.
Accredited Provider: American Federation of Teachers/Nurses and Health Professionals is accredited as a provider of nursing continuing professional development by the American Nurses Credentialing Center's Commission on Accreditation.
Successful Completion: The learner must attend 100 percent of each chosen session. After the learner has completed all of his or her chosen sessions, a certificate of attendance, program evaluation/survey must be completed and returned to the provider.
Contact Hours: If applicable; contact hours awarded (100% of activity; or missing no more than 10 minutes of activity; attendee with a successful completion (noted above) will be awarded contact hours
Training is supported by the National Institute of Environmental Health Sciences of the National Institutes of Health under award number 5U45ES006162-30.