Tools to Build Coping and Resilience
Co-Provided by AFT and HPAE
Presented by the NJMHA Faculty
1.5 Contact hours
Presenter: Dana Rahmel, M.S.Ed
Please sign up for one of the sessions below (select one).
Click here to register for the March 16 @ 7:30 pm course.
Click here to register for the March 30 @ 7:30 pm course.
Click here to register for the April 18 @ 12:30 pm course.
Click here to register for the April 18 @ 7:30 pm course.
Click here to register for the April 20 @12:30 pm course.
Click here to register for the April 20 @ 7:30 pm course.
Course Information: This workshop on emotional resiliency and coping skills designed to have participants build their own personal toolkit of support. It is designed for individuals to explore their own personal needs and gain insight and a skill set. 1.5 Contact Hours will be provided. This will be followed by a bi-weekly optional support group for an additional four sessions to support the full utilization of the tool kit.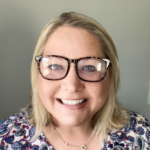 Presenter Bio: Dana earned her Bachelors degrees at Rutgers University in Psychology and Criminal Justice. She went on to earn a Master's in Education at The University of Pennsylvania. Dana has worked in public education in Southern New Jersey for more than 13 years. She is a certified school social worker and a member of the Burlington County Crisis Response Team. Dana also finds the time to teach psychology and behavioral science courses as a senior adjunct at Rowan College at Burlington County and Wilmington University. Currently, Dana is working with Mental Health Association of New Jersey's Crisis Counseling Program through NJ Hope and Healing to provide psycho-educational presentations on a variety of topics to organizations that have been impacted by COVID-19 and has also developed drop in counseling groups for teachers, parents, healthcare workers, and teens.
---
Outcome: Learners will acquire knowledge as to tools, techniques, and practices to that may be utilized to promote self-growth, build resilience, and coping mechanisms in response to stress.
Accredited Provider: American Federation of Teachers/Nurses and Health Professionals is accredited as a provider of nursing continuing professional development by the American Nurses Credentialing Center's Commission on Accreditation.
Successful Completion: The learner must attend 100 percent of each chosen session. After the learner has completed all of his or her chosen sessions, a certificate of attendance, program evaluation/survey must be completed and returned to the provider.
Contact Hours: If applicable; contact hours awarded (100% of activity; or missing no more than 10 minutes of activity; attendee with a successful completion (noted above) will be awarded contact hours
Training is supported by the National Institute of Environmental Health Sciences of the National Institutes of Health under award number 5U45ES006162-30.