Continuing Education Event/Nurses Week Dinner Set for May 5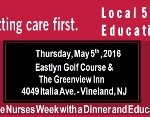 Did you know that New Jersey has an Alternative to Discipline (ATD) law that protects nurses from public discipline? Your local officers have planned an excellent Continuing Ed offering on this topic on May 5, 5:30 to 7:00 pm, at the Eastlyn Golf Course and The Greenview Inn. You'll learn about the requirement of the ATD law, whether or not a license is eligible for ATD, and how the New Jersey Board of Nursing relies upon the Recovery and Monitoring Program (RAMP) when a licensee is eligible to ATD.
This Continuing Ed offering is being combined with a Nurses Week dinner.
Register now by sending an RSVP by April 22 to debpacitti@yahoo.com with your entrée selection.