Exposed and At-Risk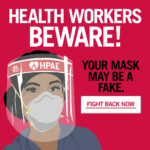 Don't get fooled by fake hospital masks: A guide on how to tell
Since the Fall 2020, healthcare workers have been reporting to HPAE concerns over highly suspicious ill-fitting, misshapen, sometimes torn and, often, odd-smelling "3M" masks they are being given by their employers while providing care for patients during a pandemic outbreak. Workers have reported to their employers that it is difficult to get proper seal with these masks to ensure they are fully protected. As it turns out, the nation is inundated with fake respirator masks. Here is a guide on how to tell whether the masks you've been provided is potentially counterfeit.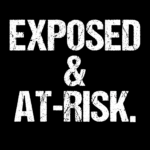 HPAE July 2020 White Paper: A real-time exposition on the impact of the pandemic on healthcare workers
A deadly viral pandemic was raging and our healthcare workers—our first lines of defense—were feeling vulnerable and disposable. HPAE conducted a survey of 1,100 members. They gave us a frontline picture of the shortcomings of the pandemic response and the impact those gaps had on not only the workers, but on the care they provided and on the public's safety. You can see the report here.
Resources
Upcoming Events
No upcoming events at this time.