HPAE White Paper – The Christie Administration's Department of Health: Failure in Enforcement, Accountability and Transparency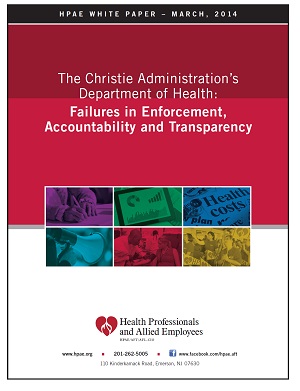 The health care landscape has changed dramatically in the past decade, driven by reimbursement changes, hospital consolidations, health reform, and hospital and health system competition.
In New Jersey, financially vulnerable hospitals have reduced services and staff, gone through bankruptcy or closed, undergone mergers and consolidations, and been bought up by profit-driven,
investor-owned companies.
Of the state's 72 acute-care hospitals, 67 percent (about 50 facilities) are now part of amulti-hospital system1, and 15% may soon be investor-owned. Since the late 1990s NJ residents dependent on community hospitals for care have seen:
The closing or bankruptcy of 19 hospitals, and the sale of eight not-for-profit community hospitals to for-profit buyers, plus at least six more pending hospital conversions.
The rise of the out-of-network business model resulting in: diminished access to healthcare for communities, higher prices to patients, and higher profits to hospital owners. For-profits Bayonne
Medical Center and Meadowlands Hospital and Medical Center, vying for the dubious distinction of being the most expensive hospital in the nation, are emblematic of this business model.
Unregulated "sale-leaseback" arrangements in which hospital property is sold to private investors and leased back to hospital owners without any public scrutiny or protections.
Closures or limits on services, as demonstrated by repeated efforts to close Memorial Hospital of Salem County's maternity service.
Years of mismanagement by hospital executives and anemic oversight by board members and government regulators have destabilized many NJ hospitals, some to the point of bankruptcy.The opportunity to purchase financially failing hospitals at "bargain" prices, along with the potential for high profits using an "out-of-network" business model, have drawn hospital investors into NJ. Since the for-profit Solomon Healthcare Services took over the management of Bergen Regional Medical Center, formerly Bergen Pines, in 1997, NJ regulators have approved the sale of eight not-for-profit hospitals to for-profit investors; another six such sales currently are in the works. (Hospital Conversions Table in Appendix 1)