Nearly 1Million NJ Workers Would Benefit from $15 Minimum Wage
From NJ Advance Media for NJ.com, March 24, 2016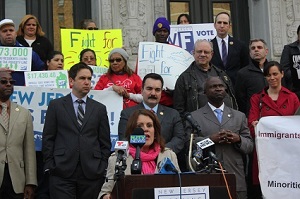 TRENTON — Boosting the state minimum wage to $15 an hour in 2021 would benefit one in four workers in New Jersey, 90 percent of whom are at least 20 years old, according to a report released on Wednesday.
New Jersey Policy Perspective, a left-leaning research organization, released the labor data analysis to rebut the argument that only unskilled teenagers would benefit from hiking the minimum wage to $15.
Business and employer organizations oppose a bill by state Assembly Speaker Vincent Prieto (D-Hudson) and state Senate President Stephen Sweeney (D-Gloucester) that would raise the current minimum wage of $8.38 to $15 over five years. If the legislation fails to pass or if Gov. Chris Christie vetoes it — as he has before — they will ask voters to approve it by amending the constitution.