Election Center

Watch HPAE Endorse Governor Phil Murphy!
On Tuesday, November 2, 2021 voters in New Jersey will go to the polls to elect the Governor, the State Legislators; Senators (40 seats) and Assemblypersons (80 seats), County Commissioners and local candidates.
HPAE members, who faced unprecedented health and safety concerns battling COVID-19 in their healthcare facilities, want to know and understand how New Jersey will move forward. HPAE has endorsed candidates who have been on the side of health care workers and patients and who have committed to protecting the interests of patients and workers over the financial interests of large healthcare corporations. It is up to each of us to participate in the very important 2021 general election when registered voters will cast their vote to elect our next Governor, State Senate and Assembly members, county and local elected.
Throughout this election season we hope you will visit Election Center 2021, where you can learn more about:
To check your voter registration status or to register to vote go to: https://njaflcio.org/cope/
News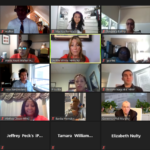 The Healthcare Professionals and Allied Employees, in recognition of his steadfast support of frontline healthcare workers during the coronavirus pandemic, today endorsed Phil Murphy in his race to be re-elected as governor of New Jersey.
Thats all, folks - no more news!
Resources
Upcoming Events
No upcoming events at this time.