Unions Win Fee Victory as Supreme Court Ties 4-4
From the New York Times, March 29, 2016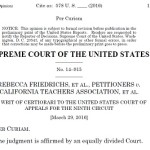 WASHINGTON — A case that seemed poised to deal a major blow to public unions ended in a 4-4 tie on Tuesday at the Supreme Court, effectively delivering a big victory to the unions.
When the case was argued in January, the court's conservative majority seemed ready to say that forcing public workers to support unions they had declined to join violates the First Amendment.
But the death of Justice Antonin Scalia in February changed the balance of power in the case, which was brought by California public schoolteachers who chose not to join unions and objected to paying for the unions' collective bargaining activities on their behalf.