HPAE Local 5091 Holds Legislative Breakfast with Bergen County Political Leaders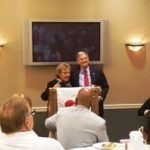 With their contract expiring in less than a month, over 60 members of HPAE Local 5091 attended a legislative breakfast yesterday with state legislators to discuss the current contract negotiations with Bergen Regional Medical Center (BRMC) and the future of the facility after the County's contract with the for-profit company which operates BRMC expires next year.
Several state legislators addressed the members, including Senator Loretta Weinberg, Assemblyman Gordon Johnson, and Assemblyman Timothy Eustace. County Executive James Tedesco extended his unconditional support of our local and his commitment to finding the best operator for managing BRMC.
Several of our members spoke at the breakfast event: President Jeff Peck on health and safety; Vice-President Delfina Guevara on the need for more government oversight; Chris Bader on safe staffing; and Debra Rausch on protecting the mission of the hospital.
Senator Weinberg, a long-time supporter of quality patient care and workers' rights, said that "BRMC serves some of the most vulnerable Bergen County residents and is staffed by hardworking healthcare professionals. Whatever the future of BRMC, it is clear that we need managers that prioritize patient care and worker safety and not their bottom line."
Photo below: Senator Weinberg, Assemblymen Eustace and Johnson, HPAE President Ann Twomey and HPAE Local 5091 members: