Violence at Bergen Regional Medical Center targeted
From The Record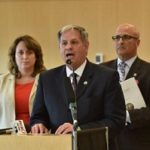 Bergen County Executive James Tedesco called Wednesday for sweeping action to stem the violence at Bergen Regional Medical Center, including assigning more police to the facility, ordering the hospital to hire consultants to assess safety and patient care, and appointing a liaison from his office to the Paramus hospital.
Tedesco also requested that acting Bergen County Prosecutor Gurbir Grewal and Sheriff Mich­ael Saudino conduct a safety assessment of the entire 68-acre campus and report findings to his office and the Bergen County Improvement Authority, which oversees the facility.
The executive was responding to a report published in The Record on Sunday that revealed hundreds of alleged assaults logged by county police in recent years, incidents reported from wards throughout the hospital. A 6-year-old girl was allegedly sexually assaulted, seniors in long-term care were reportedly hit, and fights broke out in detox units and in locked-down psychiatric wards, The Record found after reviewing police reports and state and federal records and interviewing alleged victims.
---
"After many years of raising concerns about patient and worker safety at Bergen Regional Medical Center with government officials, it is refreshing to hear the Bergen County executive announce an intervention to restore a safe patient and working environment," said Ann Twomey, president of Health Professionals and Allied Employees.
---