Democrats stage sit-in on House floor over gun control vote
From NJ.com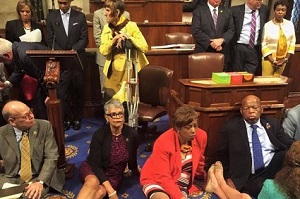 WASHINGTON — House Democrats staged a rare takeover of the chamber on Wednesday, vowing not to leave until the Republican leadership allowed a vote on legislation to ban suspected terrorists from buying weapons.
Lawmakers sat on the floor or on chairs and took turns delivering speeches demanding a vote on the bill before the House left town Friday for a week. "No bill, no break," they chanted periodically throughout the day.
Plans for the sit-in were discussed Tuesday night by a small group of lawmakers, including Rep. Bonnie Watson Coleman (D-12th Dist.), who met in the office of Rep. John Lewis (D-Ga.). Lewis is no stranger to protests, having led the landmark Selma-to-Montgomery voting rights march in 1965.