HPAE Supports Bill Providing Stronger Oversight of BRMC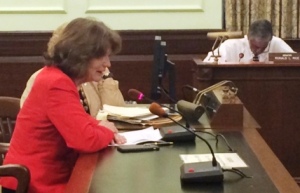 HPAE President Ann Twomey testified today before the Senate Health Committee in support of S.2361, a bill which authorizes Bergen County to establish a county hospital authority to oversee Bergen Regional Medical Center.
Read Ann's full testimony to the committee.
State Sens. Loretta Weinberg, Paul Sarlo and Robert Gordon, all Bergen County Democrats, proposed the bill last week to ensure more accountability at the 1,000-bed facility, which provides long-term care, psychiatric and substance-abuse treatment and acute care.
Nearly 19 years ago the County of Bergen, through the Bergen County Improvement Authority (BCIA) leased Bergen Pines, NJ's largest county hospital, to a private for-profit operator, Solomon Health Group. That contract between BCIA and Solomon Health Group to operate BRMC is coming to a close in March 2017.
HPAE opposed the privatization back in 1997, raising numerous objections to the arrangements of the contract. Some of our worst projections came true for the 500 HPAE nurses and health professionals at BRMC, a hospital critical to providing mental health, long-term care, and addiction services for all of New Jersey. In part, these conditions existed because the BCIA did not have the authority nor the expertise to properly oversee the facility.
President Twomey emphasized in her testimony that "This legislation is a step towards greater accountability and oversight of any future hospital partner, giving the County the authority and the responsibility for ensuring quality care and essential mental health services are provided to the community as well as maintaining a safe and secure work environment for dedicated nurses, social workers, and staff".