Democrats Support, Republicans Oppose Labor Unions in their Party Platforms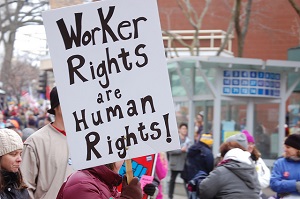 Now that the Republican and Democratic Party conventions are over, where do the parties' platforms stand on the key issues facing HPAE members, including workers' rights and labor unions?
As a union representing healthcare workers, our ability to bargain contracts and organize new members is crucially affected by laws and regulations which provide a framework for labor-management relations. The Democrats and Republicans have very different views about such laws and regulations.
At their convention in Philadelphia last week, the Democratic Party expressed its strong support for the labor movement. The party platform notes that "when workers are strong, America is strong. Democrats will make it easier for workers, public and private, to exercise their right to organize and join unions." The Democratic Party supports amendments to the National Labor Relations Act which will strengthen the rights of workers and their labor organizations.
In contrast, the Republic Party platform sees unions as a threat to "freedom in the workplace" and urges elected officials across the country to pass laws which limit collective bargaining rights. Republicans continue to support so-called "right to work" laws and oppose any efforts to make the process of union organizing less difficult.
Click here to read the sections of each party's platform which address the issue of workers' rights and unions.