HPAE @ the AFT Convention in Minneapolis, MN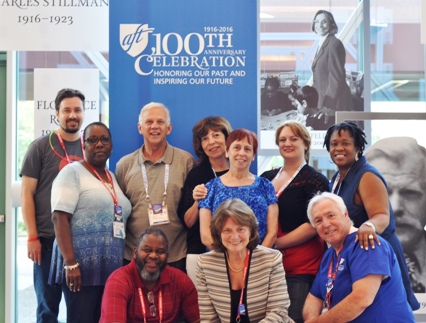 The American Federation of Teachers, the national union to which HPAE is affiliated, held its biannual convention in Minneapolis, MN this week. The 3,000 convention delegates reaffirmed AFT's support Hillary Clinton for President and passed convention resolutions on key issues facing HPAE members, including reigning in abusive medical billing practices and petitioning OSHA to promulgate standards for workplace violence prevention.
AFT President Randi Weingarten opened the convention Monday with a forceful case for Hillary Clinton, while hailing the 100-year-old union as a vehicle empowering our more than 1.6 million workers at the bargaining table and the ballot box. Weingarten described the union as a force for democracy in our society and a bulwark against public figures such as Donald Trump, Scott Walker and others who exploit Americans' anxieties "and turn scapegoating into an art form."
Political leaders attending the convention echoed Weingarten's remarks. The two United States senators from Minnesota, Al Franken and Amy Klobuchar,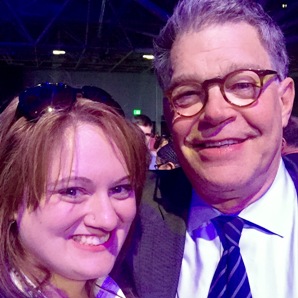 expressed their strong commitment to the labor movement and the need to protect workers' rights in the United States. Senator Franken is a member of three unions (from his former life as a comedian and radio talk show host) and Senator Klobuchar's mother is a proud AFT member who taught until she was 70 years old. Photo on right: Lisa Scaramuzzo, Local 5103/ARC with Senator Al Franken.
Convention resolutions focused on key issues in politics, workers's rights, education, and health care. HPAE President Ann Twomey spoke out in favor of a resolution which would reign in abusive medical billing practices and limit medical debt.  HPAE Vice President Bernie Gerard addressed the delegates in support of a resolution demanding that OSHA issue standards on workplace violence prevention.
Photos of Ann and Bernie addressing the convention delegates below: