Nurses and Doctors Are Fighting Back Against Corporate Healthcare by Unionizing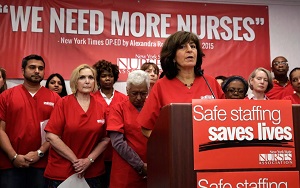 From The Nation
Health-care issues got scant attention at the Democratic National Convention in Philadelphia, but outside the hall, a wave of labor victories at area hospitals showed the business of medicine is getting an injection of union action; medical workers who are sick of seeing their care devalued are building resistance to an epidemic of corporatization.
Nurses at Hahnemann Hospital, part of the for-profit hospital chain Tenet, voted in January to unionize with the Pennsylvania Association of Staff Nurses & Allied Professionals (PASNAP) by an 82-percent majority in a National Labor Relations Board election, winning representation for roughly 850 nurses. Another unionization followed for hundreds more nurses at another Tenet facility, St. Christopher's Hospital for Children.
Around the same time, about 330 nurses and dozens more support staff at Delaware County Memorial Hospital in Drexel Hill held two successful union votes. The victories established collective bargaining units just ahead of a takeover of the hospital's parent organization by another for-profit chain, Prospect Medical Holdings.
In April, nurses at Philadelphia's Einstein Medical Center voted to unionize following a hard-fought organizing drive, during which nurses decried dismal and unsafe working conditions. Organizers also clashed with the management's anti-union campaign in which nurses were reportedly dragged into "captive audience" meetings with anti-labor consultants acting a propagandists to discourage them from organizing.
According to PASNAP's surveys of recently organized nurses, about seven in ten respondents "reported never having adequate staffing"; just four in 100 reported that "they always had safe staffing." About 70 percent reported not having adequate break times, which are linked to continual understaffing and overwork.
Speaking after an intense shift that left him exhausted, Einstein nurse Kevin Chilton recalled having to leave the next shift with an even heavier burden, since it was even more short-staffed than his had been.
"I just left work on a very strenuous, tough assignment, and passed on an even worse assignment to my peers," he lamented. He might have stayed longer if he could, "but I was so depleted that that wasn't a viable option. But I felt so bad, for the nurses that were coming on."
Adding to the stress is the management's cost-cutting tactic of slashing technical-support staff, which leaves nurses with even more intense work burdens.
PASNAP President Patty Eakin, who worked as a nurse at nearby Temple University Hospital, says, "It's a terrible, terrible feeling, to go home at the end of the day feeling so ragged and exhausted. And then worried, so worried: Did I do this? Did I chart that?… They're collapsing under the load that the boss is putting on them."
Getting safe-staffing ratios codified into all union contracts is a top priority for PASNAP, but it's not enough to go contract by contract, warns Eakin, when many facilities remain non-unionized and management keeps trying to squeeze staff to pump up profits. So PASNAP is pushing for state legislation to mandate staffing ratios at Pennsylvania hospital facilities. The proposed bill, which follows landmark safe-staffing legislation already enacted in California, would guarantee staff levels like a one-to-one ratio in trauma emergency care, as well as special protections for staff's right to negotiate workloads and work assignments.
Closing chronic staffing gaps keeps workplaces and patients healthier. A recent comparative study on the impact of staffing mandates projected that when staffing ratios for nurses in New Jersey and Pennsylvania matched California's mandated safe-staffing levels, "nurses' burnout and job dissatisfaction were lower, and nurses reported consistently better quality of care."
Nurses aren't the only ones stretched to the breaking point in hospitals and clinics. Even doctors are increasingly reminded everyday that they're workers like everyone else. A national study on doctors' work experiences has revealed massive work-related stress, with 46 percent reporting severe stress, up from 38 percent in 2011. One major factor cited was new regulatory pressures under the Affordable Care Act.
A few overworked doctors just got a union of their own in Minnesota. An 11-member medical-professionals unit of Steelworkers Local 9460, which includes three doctors along with nurses and other staff, recently finalized it first contract at Lake Superior Community Health Center, a facility serving low-income communities in Duluth, Minnesota. The hard-fought contract came after years of internal struggle. Staff complained of a climate of anti-union hostility and intimidation—tensions that culminated in a contentious organizing drive and 42 unfair-labor-practice charges against the management filed with the NLRB.
While this is the first unit in the 2,300-member amalgamated local that includes doctors, staff representative Cathy Drummond said the staff approached the union with the same workplace issues that other health-care workers routinely experience: "When the employer had made significant changes to their working conditions and hours…they felt that they needed a union so that they could come in and have a voice and to make sure that changes like this weren't going to happen without them having a voice in those changes. And [with] a contract, those changes can't occur without bargaining over them."
For all medical workers, overwork, once a proud hallmark of the profession, now symptomizes systemic rot. To tackle the root cause, nurses unions have become a leading voice in the movement for single-payer health care. Eakin argues that breaking the dominance of the medical insurance industry is critical for overhauling the social-service infrastructure as a whole.
"Part of the problem is, this for-profit system is so set up to…suck dollars out of the system, and give it to health-care corporations, pharmaceuticals, Wall Street executives, instead of using that money to take care of patients."
As front-line care providers, Eakin says, "We're in a strong position to advocate for all patients.… But I think a lot of employers are trying to undermine that, because they don't want nurses to be speaking out about inequality and about improving access for everybody."
Addressing inequality in all levels of the health-care structure, as a workforce and public trust, means that patients aren't safe unless their rights at work are secure. "One of the biggest things we're going to get out of [a union]," she says, "is a legal voice, and a way to raise our voices up together and say, 'This has to change.'"