Medical Center and NJ Politicians: Perfect Together?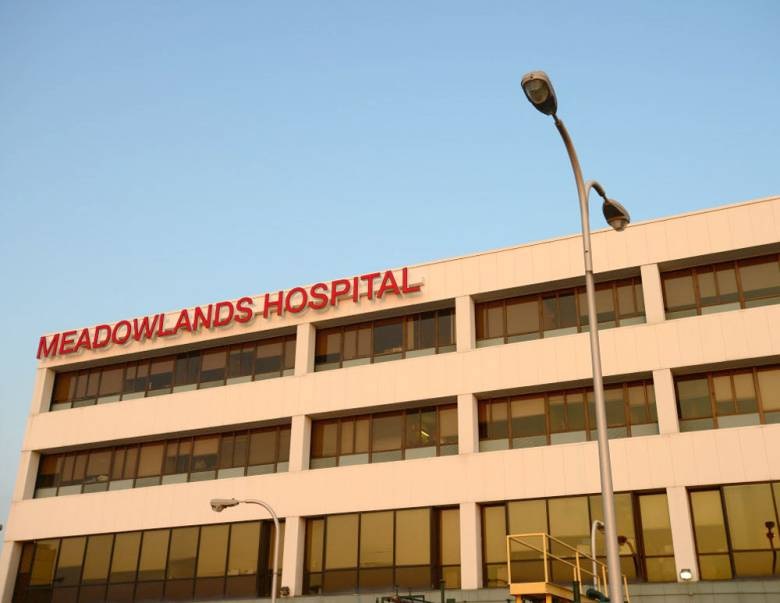 From NJ Spotlight
This is the third and final article in a series profiling Meadowlands Hospital Medical Center. The first investigated the hospital's troubled birth-tourism program; the second detailed its questionable business practices.
Meadowlands Hospital Medical Center, hit with fines and accused of questionable financial practices, has been generous to New Jersey politicians. The owners, together with their family members, associates, businesses and the hospital itself, have contributed almost $900,000 to political candidates at the local, state, and federal levels.
These contributions, made beginning shortly before the principals entered into negotiations to buy the Secaucus hospital in 2008, have led some observers to question whether they were given in expectation that the hospital would be treated favorably, or that legislation the hospital supported would be approved.
The Health Professionals and Allied Employees union, which represents the medical center's nurses, accused the hospital's "owners, family members and the principals of its myriad related affiliated companies" of spreading their political contributions far and wide "as they've acquired other real estate, hospital ownerships, and ambulatory surgery centers," in a report it wrote about the hospital.
Among the criticisms the union has leveled against MHA — the company that owns the hospital — and its principals is that they made political contributions and "hired lobbying firms to oppose new laws that would further regulate their business practices."
The hospital's owners and its lobbyist declined to comment on the contributions.
THE CHRISTIE CONNECTION
The largest of the contributions totaled $250,000 and was given to America Leads, the SuperPAC backing Gov. Chris Christie's failed presidential bid, on the day the governor announced his candidacy last June, Federal Election Commission records show. That contribution came from Complete Medical Project Management LLC, which owns MHA LLC, the corporate owner of the hospital. Another 19 MHMC-related contributions totaling $55,100 went to Christie's gubernatorial and presidential campaigns. Combined, this represents more than $300,000 in money to Christie.
The Christie contributions are especially noteworthy because the $250,000 to America Leads ranked with several others as the sixth most-generous contribution to Christie's SuperPac.
Kevin Roberts, a spokesman for Christie at the time of this interview, rejected any suggestion that the Christie administration has been influenced by the donations.
"The Administration has provided more oversight to Meadowlands than any other hospital in the state in recent years, including numerous fines," he said.
THE PRICE OF DOING BUSINESS
The hospital was one of the first in New Jersey to be awarded for-profit status. The genesis of the purchase began with the formation of a limited liability company in August 2009, with the sale finally approved in December 2010. The initial ownership structure was complicated, involving 18 separate limited-liability companies and 37 individuals, including Raj Mukherji, a Democratic Assemblyman from Hudson County who was not in the Legislature at the time and sold his interest before his election. The principals with the largest ownership interests are Dr. Richard Lipsky, Anastasia Burlyuk, Tamara Dunaev, and Pavel Pogodin, all of Bergen County. Each of these four has been or is still involved with other LLCs, as well. Lipsky's network is the largest: he has been part of some three dozen companies that are either still registered or were closed within the past decade, in addition to those related to Meadowlands Hospital.
NJ Spotlight analyzed hundreds of campaign contributions from all the owners, members of their families, those associated with their numerous businesses, and hospital employees from 2008, the year before Lipsky's group approached LibertyHealth seeking to buy the Secaucus hospital, through 2015. The results show:
The owners made more than $410,000 in contributions between 2009 and 2011. This was during the time they were purchasing the hospital and when state insurance officials were seeking to impose caps on the amount hospitals could collect for outpatient services related to auto accidents.
Of individuals owners, Lipsky was the most generous, giving more than $150,000. Including members of his family, that total is about $187,000 in contributions.
As of the end of last year, they already had spent $273,700 toward the 2016 elections, all of that supporting Christie's presidential campaign. That's the most they contributed in a single year.
Although the owners backed both parties in this state where power is divided between the red and blue, they gave some $300,000 more to Republicans, who received almost two-thirds of their total contributions.
Lawmakers and candidates in more than half of the state's legislative districts have received contributions from those affiliated with MHMC. Almost $80,000 went to 19th District candidates, including some $66,000 to Assemblyman John Wisniewski, former chairman of the state Democratic Committee and a lawyer who once represented Lipsky.
Some of the contributions made by Lipsky and associates to Wisniewski occurred around the time he sponsored legislation that would have exempted hospitals from having to comply with the caps on Personal Injury Protection (PIP) fees paid by auto insurance.
The insurance industry alleged at the time that Meadowlands Hospital was charging as much as 3,000 times more for medical procedures than outpatient facilities — for instance, $67,715 for a steroid injection in the back, for which a same-day surgery center could charge only $3,800. The hospital's president at the time did not deny the high fees, but said insurance paid only about 7 percent of what the hospital charged. There were also allegations that ambulatory surgery and pain-management practices in which some owners had an interest were referring clients to the hospital for treatment. The standalone clinics were subject to caps on PIP claims while the hospital was not.
In 2011, Wisniewski was chair of the state Democratic committee and a member of the Assembly Financial Institutions and Insurance Committee when he introduced on November 10 a bill (A-4236) that would have prevented the state Department of Banking and Insurance's proposed rule capping PIP charges by hospitals from taking effect. It would have allowed hospitals to continue charging higher fees for outpatient services related to auto accidents than the DOBI schedule.
Wisniewski and Lipsky had a history: The lawmaker represented the doctor in 2008 when Lipsky and two partners were seeking to build a five-story healthcare facility on a corner lot in Bayonne. The facility never got the necessary approvals. Bayonne Med Realty, whose principal is listed in state business documents as Dr. Robert Federman of Fort Lee, one of Lipsky's two partners in the project, bought the property, currently a vacant lot, in August 2007 and recently sold it. .
On August 1, 2011, the DOBI proposed a sweeping auto insurance rule change that would have, among other provisions, limited the fees charged by hospitals for outpatient auto insurance-related care. The next day MHMC owners and associates made 10 contributions totaling more than $25,000 to Wisniewski. In July, while the DOBI rule was under discussion, Lipsky gave $1,500 to Wisniewski and he and five associates gave more than $15,000 to Assemblyman Jon Bramnick (R-Union) and the second highest-ranking Republican in the lower house
Bramnick, Wisniewski, and Assemblyman Vincent Prieto, D-Hudson and the current speaker of the Assembly, introduced their bill three months after DOBI proposed the rule change. Prieto is from Secaucus, where the hospital is located. He did not receive contributions from anyone related to MHMC.
Wisniewski declined to comment, but his office provided a copy of an op-ed he wrote for PolitickerNJ in May 2012 in response to an article it published on the issue. In it, he said he sponsored the bill to prevent hospital closings.
FUNDRAISER AND FRIEND
Calling Lipsky a fundraiser, a friend, and a professional acquaintance, Wisniewski wrote that he was outraged at "the suggestion that my support for the bill was meant to benefit one hospital and was done in exchange for campaign contributions. It was not. The shaky foundation for the false charges rests on the fact that four years ago, I had a one-time business relationship with one of the hospital's owners, who subsequently became a campaign donor and fundraiser on my behalf."
"I chose to fight for our state's hospitals and I make no apologies for that," Wisniewski wrote.
The Assembly and Senate versions of the bill did not even receive a hearing. The DOBI amended its rule proposal in January 2012 in some substantial ways after receiving 18,000 comments. The change, which took effect the following January, imposed PIP fee caps on hospital outpatient services for the first time, but it allowed hospitals to charge higher fees than ambulatory surgery centers because hospital costs are higher..
There were other legislators that had backed the effort to allow hospitals to continue to charge higher fees for PIP services. Even earlier than Wisniewski's bill, on July 12, Sen. Nicholas Sacco, the Hudson County Democrat whose 32nd District includes Secaucus, had introduced the bill first as S-3008. On October 19, 2011, Sacco got the maximum allowable contribution of $2,600 from each of three of the principals — Lipsky, Dunaev and Pogodin — for a total of $7,800.
For the Sacco contributions, only Lipsky listed his employer as Meadowlands Hospital. Pogodin named Vogster Online and Dunaev listed BASC Inc. BASC likely stands for Bergen Ambulatory Surgery Center, of which Dunaev is a principal. It shares a Saddle Brook address with Vogster Entertainment LLC, of which Dunaev was president.
The plethora of LLCs owned by the hospital's principals and the lack of uniformity in addresses and employers listed on election contribution filings made calculating the total in contributions attributed to the hospital difficult.
Lipsky's $150,000 was made in 47 separate contributions and had the greatest discrepancies in his identifying information. There were personal addresses in six municipalities — Woodcliff Lake, Bayonne, Park Ridge, Maplewood, Secaucus, and Hackensack. In Hackensack, there were three different street addresses. He listed nine different employers, not including variations on the name Meadowlands Hospital Medical Center.
Dunaev, who made nearly $69,000 in contributions, listed five employers. Burlyuk listed addresses in Secaucus, Hackensack, and Closter and four different employers in making more than $40,000 in contributions. Pogodin personally gave $37,000, listing four separate employers.
This 2011 election cycle, in which MHMC's principals and related individuals and companies gave the most money, also coincided with the period in which they purchased the hospital. LibertyHealth announces the sale in January 2010, the state Department of Health and Senior Services issued a Certificate of Need in November of that year, and a judge approved it in December 2010. Since then, the hospital has been under fire for some questionable business practices and been fined numerous times for failing to file financial reports with the state. It is now up for sale again.
The change in auto insurance related payments is not the only time Lipsky and others made political contributions while interested in an issue. Lipsky and others associated with the hospital gave former Bayonne Mayor Mark Smith more than $25,000 in contributions, most of that in 2010 and 2011, and $19,100 to Jason O'Donnell, a former state Assemblyman, Democratic chairman of Bayonne and Smith's director of public safety. Bayonne is where Lipsky and other investors had sought to build a federally qualified health center. Candidates for office in this city received more than those in any other New Jersey municipality.
The city where candidates got the second largest amount of money from those affiliated with Meadowlands Hospital was Newark. Lipsky personally gave $6,000 of the $14,400 contributed in total. Most of the money was given in 2010, the same year in which Lipsky reopened Columbus Hospital with his brother as a long-term acute care hospital in Newark.
They were also active in contributing to statewide political committes, giving $145,000 to the New Jersey Republican State Committee and GOP PACs in the Senate and Assembly. The Democratic Assembly campaign got $25,000 in total.
While the principals and others related to MHA gave to more than 80 sitting local, state and federal legislators, they tended to be more generous to those serving in offices near the hospital — with the exception of Wisniewski, who represents Middlesex County. And they gave to the chair of the Assembly health committee and head of the state Republican party.