NJ Doctors Got $56M In Gifts, Fees From Drug And Device Makers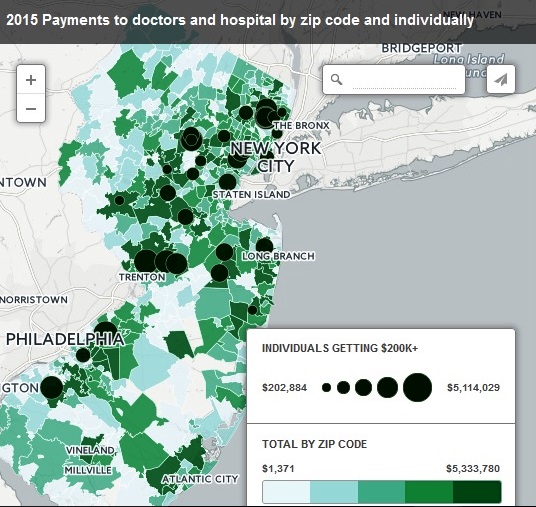 From NJ Spotlight
New Jersey doctors and hospitals received nearly $59 million last year from drug companies and device makers in gifts, travel, royalties, and consulting and other fees, new data shows.
The US Centers for Medicare and Medicaid Services' 2015 Open Payments data contains details on every payment — some reportedly worth as little as a penny — to a doctor or hospital as reported by the drug companies and device makers. Doctors got the lion's share — more than $56 million — while 47 hospitals got some $2.8 million, an analysis of the data shows.
This is the third year CMS has released Open Payments data. Under a mandate in the Affordable Care Act, or Obamacare, the federal agency collects information from companies about the payments they make to physicians and teaching hospitals for travel, research, gifts, speaking fees, meals, and other purposes. CMS also reports ownership interests that physicians or their immediate family members have in these companies.
Hackensack University Medical Center was the hospital that received the most in payments: $791,980, with three-quarters of that paid as rental or facility fees and nearly all of that — about $600,000 — in payments from Intuitive Surgical, Inc. of California, maker of the da Vinci robotic surgery system.
Morristown Medical Center got $550,000, more than half in the form of grants, with the largest amount — almost $262,000 — coming from New Jersey-based Novartis Pharmaceuticals.
St. Joseph Hospital and Medical Center in Paterson received $284,000 in total, with the largest payment a $176,000 grant from Gilead Sciences Inc. of California, best known for its antiviral drugs, including Tamiflu.
In addition to those three hospitals, 31 individual doctors received more than $200,000 apiece, the data shows.
More than 23,000 New Jersey doctors, dentists, optometrists, podiatrists, chiropractors, and others reportedly received payments ranging from one or a few cents to $4.4 million. The latter was listed as a dividend or return on investment, paid by Par Pharmaceutical of New York to Sharad Sunder Mansukani, a Moorestown ophthalmologist. Mansukani received the most payments of any doctor in New Jersey — a total of $5.1 million, mostly in dividends from Par. Mansukani also got $45,000 from Par and $40,000 from Immucor, Inc. of Georgia as faculty or speaking fees.
Only one other doctor received more than $1 million: Randal Betz, an orthopedic surgeon from Lawrenceville. He received payments from nine companies, with the largest being $1.4 million in royalty or licensing fees from DePuy Synthes Products LLC of Massachussetts. With other payments, Betz received a total of almost $1.7 million.
A dozen companies made more than $1 million in payments. The biggest categories were for faculty or speaking fees — $16.6 million — and consulting fees — $11.3 million. Companies also spent almost $10 million on food and beverages for doctors, $4.5 million on physicians' travel and lodging, $1.3 million in grants, $1.2 million in education, and $1 million for speaking or teaching as part of a continuing education program. There were also more than $5 million in investment returns and nearly $5 million in royalty or licensing fees received by doctors.
The goal of releasing the data is to provide more transparency about financial relationships between healthcare providers and the makers of pharmaceuticals and medical devices, help target potentially wasteful spending in the healthcare industry, and prevent companies from inappropriately influencing research, education, and clinical decision making. CMS encourages patients to discuss payments the physicians may have received with them.
If the intention was to reduce payments to doctors, that did not happen, as the amount paid rose slightly from $7.49 billion in 2014 to $7.52 billion last year, when 1,456 companies made payments to 618,000 doctors and 1,110 teaching hospitals nationwide.
In addition to seeing payments by zip code and details on those doctors who received the most money on the map, NJ Spotlight readers can view individual payments to doctors by searching the databases, arranged by doctor's last name.