Local 5106 VP Speaks at Philly Forum on the Fight for $15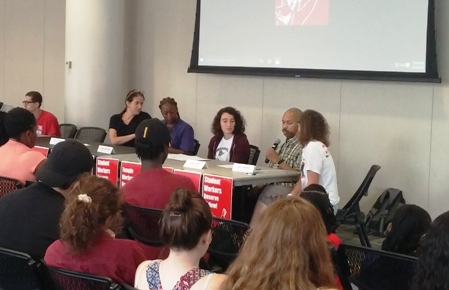 HPAE Local 5106 Vice President and Temple-Episcopal social worker Charles Bowen (2nd person from the right in the photo) spoke at the "#15 Now" Forum held on Saturday at Temple University in Philadelphia in support of SEIU 32BJ members who are fighting in their current contract negotiations for a $15/hour wage rate.
The forum brought together Temple unions, students, and community members committed to a living wage for all workers,  fair contracts for Temple unions, and  development at Temple University that not only benefits students but helps to build a strong North Philadelphia community.
Charles shared words of encouragement, talked about our union, and discussed the upcoming contract negotiations with Temple Episcopal Hospital.