Hospital ordered to pay millions in wages, benefits in union fight
Taken from NJ.com, September 23, 2016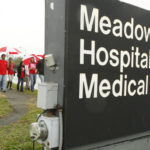 TRENTON — A health employee union won a long and contentious court battle with Meadowlands Hospital Medical Center in Secaucus that requires the for-profit owners to pay millions of dollars in back wages, retirement income, unpaid health benefits and to reverse some layoffs.
A three-member panel appointed by the National Labor Relations Board issued a 147-page decision Thursday that finds Meadowlands committed numerous unfair labor practices in violation of the contract with Health Professionals and Allied Employees.
HPAE accused hospital management of denying fair wages to nurse interns, making unilateral changes to insurance coverage, failing to make 401k contributions, improperly laying off staff, and blocking protected union organizing activities.
HPAE leaders estimated that just two claims, for nurse intern wages and 401K contributions, would amount to more than $2.5 million in restitution.
---
Read HPAE's Press Release on the Judge's Ruling.
---
"These workers have persevered and continued to provide care to the community, even as their rights were systematically and continuously violated," Ann Twomey, president of the 13,000–member HPAE, including 300 of whom work at Meadowlands., said in an announcement Friday morning.