HPAE and Partner Organizations Form New NJ Environmental Coalition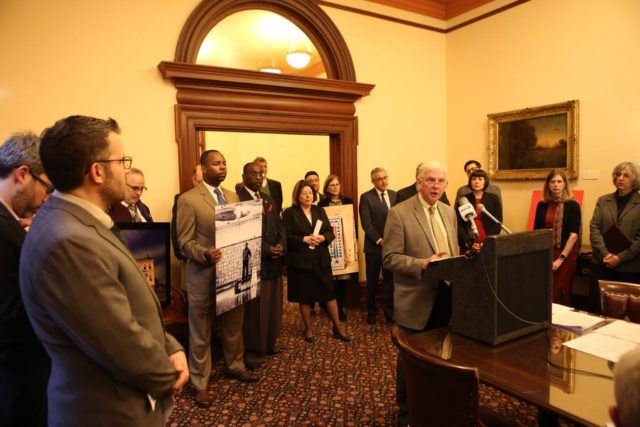 HPAE Vice President Bernie Gerard joined leaders of several labor unions, environmental groups, faith-based organizations, and social justice movements today in Trenton to announce the formation of a new state-wide coalition, Jersey Renews. The coalition's main goal will be to urge political leaders to increase dramatically New Jersey's commitment to fighting climate change.
Coalition members are calling for the state to cut greenhouse gas emissions 80% from 2005 levels by 20150. The coalition is also calling on New Jersey to increase its use of renewable energy to 30% of its overall supply by 2025, 50% by 2035, and 80% by 2050.
In his statement at the press conference held today, Gerard pointed out that "as healthcare professionals, we witness the devastating impact of pollution on the health of New Jerseyans, from chronic respiratory ailments to life threatening cancers. Reducing emissions in New Jersey can go a long way to prevent illness and reduce the need for costly and long term treatments." Gerard said that HPAE supports Jersey Renews because New Jersey needs to "protect the health and safety of future generations by reducing harmful emissions and promoting renewable energy initiatives."
Read Bernie Gerard's full statement at the press conference.