January 15 is the National Day of Action to Support Healthcare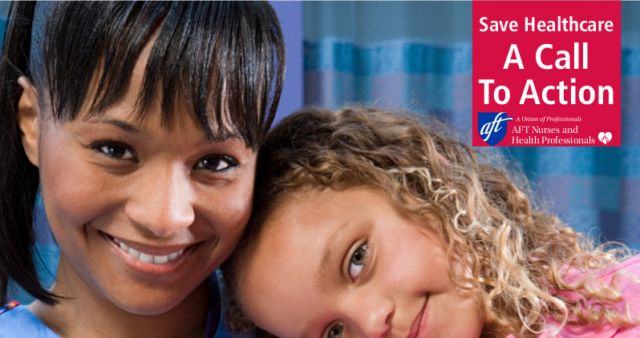 NATIONAL DAY OF ACTION: JANUARY 15, 2017
DON'T MAKE AMERICA SICK AGAIN
President-elect  Donald Trump and Republicans in the U.S. Congress are gambling with America's health. Their plan to repeal the Affordable Care Act (ACA) without a viable replacement will take away the health coverage of 30 million people. What's more, an additional 52 million people with pre-existing conditions will lose coverage, putting millions of Americans and the entire health system at risk.
On Sunday, Jan. 15, nurses and healthcare professionals in the American Federation of Teachers are joining with our community, faith-based and labor partners to launch a campaign to stand against this reckless attack on our nation's health.
Take a Stand. Take Action!
Our fight to save healthcare will take time and sustained, collective action. Jan. 15 is just the beginning. Here's how you can join the fight.
Contact your members of Congress and tell them not to repeal the ACA. Call 877-337-7932.
Participate in a collective action on Jan. 15. To find an action near you, go to http://allin.rtp.aft.org/.
Leaflet your neighborhood and ask friends and family members to call their congressional representatives.
For leaflets and materials, go to http://allin.rtp.aft.org/.
There are many ways to support the Day of Action on Jan. 15:
Attend the Day of Action rally in Newark at the Robert Treat Hotel Ballroom, 50 Monroe Place (11:30 am). You can register here.
Attend a Day of Action rally at Temple University, 3401 N. Broad St. in Philadelphia (1:00 pm)
Attend a Press Conference at Cooper University Hospital in Camden with Congressman Donald Norcross (11:00 am) (More info TBA)
Distribute leaflets on Sunday, Jan 15th, inside your healthcare facility and in your community (Community Flyer, Healthcare Call to Action, Work-site Leaflet)
Organize members on breaks and in the cafeteria to make phone calls to Congress, take photos, and share experience on social media
On social media: post #keepuscovered, Don't #MakeAmericaSickAgain, #HPAEAFT