Free Primary-Care Office Opens For Government And School Employees
Taken from NJ Spotlight, February 10, 2017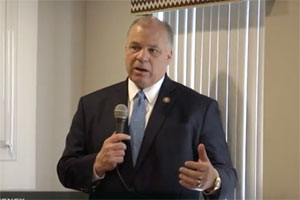 Four primary-care practices have opened for business in a pilot program that can treat tens of thousands of government and school system employees for free, the realization of a plan developed by Senate President Steve Sweeney and labor unions to improve patient care and reduce costs to taxpayers.
The R-Health Direct Primary Care Program is now operating in Burlington, Camden, and Mercer counties, and just across the river from Trenton in Pennsylvania, with a model designed to allow doctors to spend far more time with their patients and better understand their concerns, leaders at R-Health explained.
By shifting the way their physicians are paid, the program reduces the pressure on doctors to squeeze in more patient visits and gives them the time needed to better diagnose and treat those who are under their care. A lack of any co-pays or other fees makes it even more attractive to patients, according to the company.
"Typical practices are still based on volume," Reiner said. "When you're feeling the volume pressure, the doctor is always trying to figure out, 'What's my exit strategy?'" he added, noting that is often a prescription or a referral — as opposed to spending the time to identify the root cause of a patient's concerns.
The focus on primary care also seeks to keep patients healthier and reduce the need for more costly treatment in the future, R-Health CEO Mason Reiner explained. The program is set up to treat public workers — state, county, municipal, and school system employees — so trimming the cost of their medical care also benefits the taxpayers who cover these expenses.