Andrew Puzder, Trump's Sec. of Labor Pick Withdraws from Consideration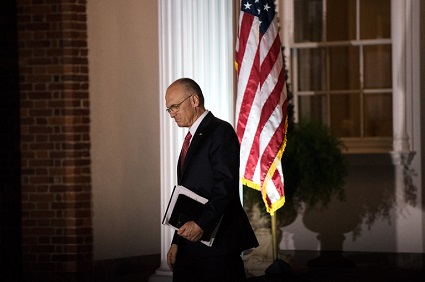 From the New York Times
WASHINGTON — The fast food executive Andrew F. Puzder withdrew his nomination to be President Trump's labor secretary on Wednesday amid growing doubts among Republican senators that he can be confirmed.
Democrats claimed victory.
"The simple truth is that given his relationship to employees at the companies he runs, he was not fit to lead a department responsible for defending workers' rights," said Senator Bernie Sanders, independent of Vermont who ran for the Democratic presidential nomination last year.
---
On the same day that Puzder announced his withdrawal, HPAE participated in a rally in Newark, NJ protesting Puzder's nomination. HPAE Public Policy Director Bridget Devane pointed out that "Puzder's track record shows he will not support proposals to strengthen worker and health safety protections.  Pudzer has opposed raising the minimum wage; criticized paid sick time proposals; and has violated health and safety regulations. Andrew Puzder headed a company with a record of violating laws and regulations that protect workers' wages, safety, and rights."
For Bridget's full statement, click here:
---
The chief executive of the CKE Restaurants fast-food chain, owner of Hardee's and Carl's Jr., had come under intense fire from Democrats and liberal groups who accused him of mistreating his workers, opposing the minimum wage and supporting automation in the workplace. The attacks on his policy views were compounded by intense scrutiny of his personal life, including allegations that he abused his ex-wife in the 1980s.
Senators were privately shown a videotape of Mr. Puzder's wife appearing incognito on Oprah Winfrey's television show and detailing her claims of abuse, which she later recanted.
---
HPAE President Ann Twomey issued a statement after Puzder withdrew from consideration. Ann said that "After years of working to improve standards in our nation's healthcare facilities we urge President Trump to take pause and consider the interests of health professionals who provide safe care in our nations' hospital. Working families deserve to security that their government is enforcing standards so they can work in a safe environment."
Read HPAE President Ann Twomey's complete statement on the withdrawal of Puzder.
---
Conservatives, including the editors of National Review and Breitbart News, focused their fire on his employment of an undocumented immigrant as a housekeeper and his failure to pay taxes for her services.
The groundswell of opposition had led several Republicans to waver in their support for Mr. Puzder ahead of his confirmation hearing on Thursday morning.
Mr. Puzder's hearing was delayed multiple times as he sought to extricate himself from his business and investments, however as recently as last week he said through a spokesman that he was "all in."
Source: https://www.nytimes.com/2017/02/15/us/politics/andrew-puzder-withdrew-labor-secretary.html?_r=0