National Labor Leader and Leading Candidate for NJ Governor Support Locked-Out Sunrise House Workers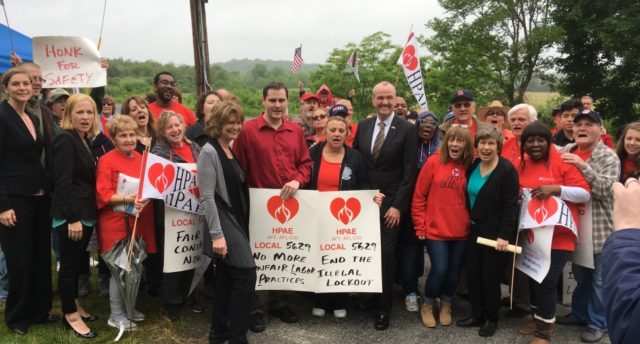 In a sign of growing support for their contract fight, Randi Weingarten, President of the 1.6 million member American Federation of Teachers (AFT) and Phil Murphy, candidate for NJ Governor, joined Local 5629 members at Sunrise House today to show their support for the workers, and to demand that management stop violating the labor law and negotiate a fair contract.
Sunrise House is owned for a for-profit corporation, American Addiction Centers.
At the rally, HPAE President Ann Twomey explained how AAC has continually violated the labor law while refusing to address the staff's important concerns. In response, HPAE is determined to achieve a good contract: "Workers on the frontlines of the opioid addiction crisis must be allowed to go back to caring and treating patients at Sunrise House.  This national for-profit chain, AAC, has put profits before patient safety and treatment. Despite the lockout, we will continue to bargain for a contract that protects patients and workers," said Ann Twomey, HPAE President.
AFT President Randi Weingarten decried AAC's overriding focus on profit, pointing out that AAC can do the "right thing" and make Sunrise House a facility that provides quality care for the clients as well as good working conditions for the staff.
Noting how important an issue opioid addiction has become, Phil Murphy urged AAC to go back to the bargaining table and negotiate a fair contract so treatment at the facility can resume. "The injustice being done to HPAE's members at Sunrise House by American Addiction Centers is outrageous. I am proud to join HPAE and AFT in support of Sunrise House's workers and patients. This lockout must end, and it must end now so that Sunrise House can once again be a place where those seeking treatment can find compassion in reclaiming their lives," said Murphy.
Click here for a slide show of photos from the rally.
Sunrise House counselors Linda Fescine and Daniel Jodexnis described the negative impact that management's actions have had on staff and patients. Linda recounted how patients were transferred out of the facility without any discussion with staff about how to make the process less stressful for already vulnerable patients. "I have worked at Sunrise House for 20 years providing care to help our patients on the road to recovery.  Last week, administration told patients that they were being transferred to another treatment facility, disrupting their treatment and sending them across the country.  That disruption in treatment can have a devastating impact on patient care, and potentially some patients could relapse," said Linda.
Daniel pointed out how the lack of staff at the facility doesn't just made working conditions difficult, but harms the patients.
The 120 Sunrise House workers were illegally locked out by AAC and began picketing at Sunrise House on Tuesday, May 23.
AAC is under investigation by the National Labor Relations Board for failing to bargain in good faith, making unilateral changes, discriminating against a union activist, and for failing to provide necessary information. AAC is also under investigation by the Occupational Safety and Health Administration for complaints of unsafe conditions at Sunrise House.
The key issues in the negotiations, which began September 2016, are staff shortages, wages, and safety conditions for both the staff and patients.
The Local 5629 Negotiations Committee met with management representatives yesterday. While some progress was made on safety conditions, both sides remain far apart on staffing and wages.
The next bargaining date is set for Thursday, June 8th.