Labor Notes Article Features Illegally-Locked Out Sunrise House Workers
Addicted to Profits: Workers Locked Out at New Jersey Drug Treatment Facility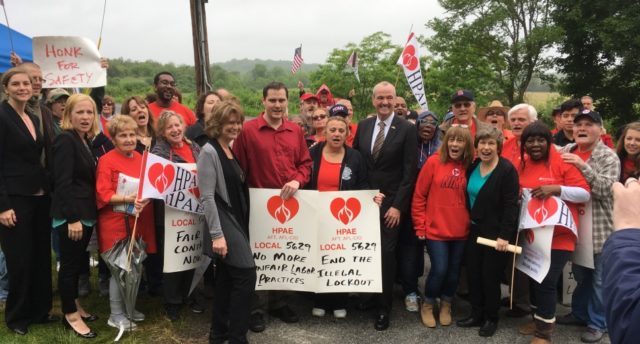 One hundred ten addiction treatment beds are empty, and 120 employees without a paycheck, after for-profit American Addiction Centers locked workers out of its Lafayette, New Jersey, facility.
The day before workers planned to kick off a three-day strike, the company changed the locks on the building and put patients on planes to its other facilities around the country.
Members of the Health Professionals and Allied Employees (HPAE, affiliated with the AFT) were set to strike at Sunrise House on May 24 over unfair labor practices. They say the employer has been bargaining in bad faith for the past nine months, as workers push for a first contract.
"The fact that they interrupted patients' treatment and forced them to leave was so sad to watch," said Sheila Schicker, who's been a nurse at Sunrise House for 11 years. "Patients were crying. They didn't want to go.
"We could have banged this contract out in a day or two, if they were willing to sit down and be reasonable."
American Addiction Centers, a for-profit chain headquartered in Brentwood, Tennessee, operates 12 residential centers across the country. Founded in 2011, it became the first publicly traded company focused solely on treating addiction in 2014.
Click here to read the full Labor Notes article.