Local 5030 Members Vote to Authorize Concerted Activity Notice to HMH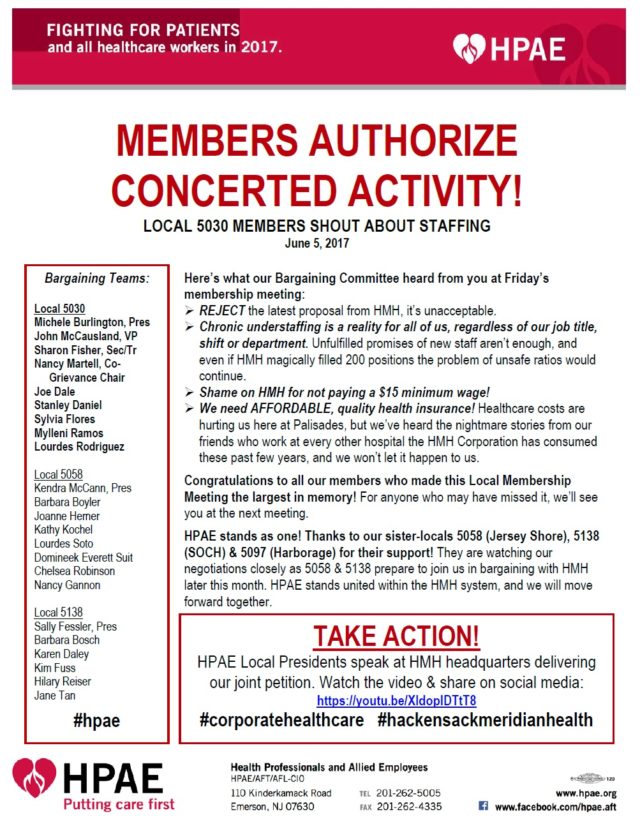 At Local 5030  membership meetings held on Friday, we sent a strong signal to Hackensack Meridian Health (HMH) that we're determined to achieve a good contract. The members voted to give the Negotiations Committee the authorization to send management a notice for concerted activity, if necessary.
This vote was based on the members' rejection of the latest proposal from HMH:
Chronic understaffing is a reality for all of us, regardless of our job title, shift or department. Unfulfilled promises of new staff aren't enough, and even if HMH magically filled 200 positions the problem of unsafe ratios would continue.
Shame on HMH for not paying a $15 minimum wage!
We need AFFORDABLE, quality health insurance! Healthcare costs are hurting us here at Palisades, but we've heard the nightmare stories from our friends who work at every other hospital the HMH Corporation has consumed these past few years, and we won't let it happen to us.
Click here to read the full contact negotiations update.