Local 5118 Ratifies Contract with Cooper University Hospital!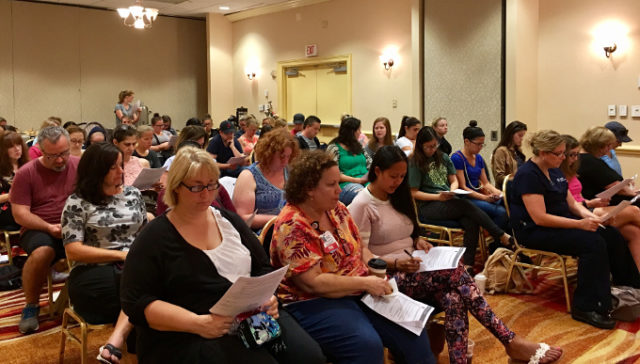 By a large majority, the members of local 5118 ratified their new contract yesterday with Cooper University Hospital. During negotiations, Cooper pushed for a series of concessions:
To eliminate UBP Level I, Level II and Baylor. UBP Level I & II will pick their additional time based on the unit needs. Management will offer the available shifts. Jobs protected.
To eliminate self-scheduling. We will continue to self-schedule. It will be done on a six week schedule.
To eliminate our longevity recognition which includes working fewer holidays, weekends, no call, no floating and cash out an additional 40 hours of PTO. We gave nothing back.
To eliminate contributing to our pension. They will continue to make the higher contributions to our pension than to the non-Union employees.
To eliminate "every third weekend or the equivalent." We kept both options.
To cancel our base days when we work OT in the same week. We got this language taken
out of the contract.
To mandate and put the outpatient nurses on a day before and after holiday track. Didn't happen.
To mandate that we work two Mondays and two Fridays. We said, NO and WON.
To decrease the number of our call outs relating to discipline. They didn't get it!
Your negotiating committee successfully beat back these demands and won some important victories on a variety of fronts.
Wages and Step Increases:
Year one of the contract 2.5% across the board wage increases for all Union nurses.Year two: 2.25% and year three: 2.00% across the board increases.
Each year of the contract an additional 1% increase is on the wage step scale.
Effective date of the wage scale increase for 2018 and 2019 shall be the first full pay period which includes June 1. This includes 11 additional days with our raise.
Nurses not on the step scale shall receive the yearly across the board raises.
The total average increase for three years is 9.75%.
In 2019 the wage step scales will be merged. There will be an additional wage increase for nurses hired after 2012 to equalize the hourly rates on the scale.
Health Insurance:
NO additional increases imposed by Cooper
Everyone stays in Tier III Vs going to Tier IV where most nurses should be. The Tiers determine the cost of our insurance along with which plan we choose.
No change to the 1% cap. The non-tobacco users discount did not change.
Staffing:
K8 and K10 Cooper shall open slots in the scheduling system to "meet" a 1:5 staffing ratio.
Effective June 1, 2019 a third unit may be identified to open shifts in the scheduling system to "meet" a 1:5 staffing ratio.
Orientee's will NOT float and will not do so for three months after completing their orientation. Exception: A RN who has transferred to a new unit and is on orientation may be floated to their old unit. This can only happen twice during the orientation period. The orientation time will be extended to cover this time.
We kept: New RN's will NOT take charge for 6 months & experienced RN's will not take charge for 3 months.When precepting we will NOT be put in charge.
Float Districts: One change. K8, 9 and 10 may float to cover medical surgical ED Holds. P6, 7 and 8 may float to cover medical surgical PACU Holds. The patients in these holds are patients the nurse would take care of on their floor. The patients are only there waiting for a bed to open.
Additional Highlights:
PTO Sell Back: We can now sell back two times a year. In May and November, up to 40 hours each time. If at Cooper over 15 years we can sell back an additional 40 hours.
Low Census PTO: We can take LCPTO with or without pay.
Bereavement: We got the hospital policy changed. We are now entitled to bereavement time after we complete our 90 day probation. It was after 1 year.
Outpatient hiring level on the wage step scale will coincide with the nurses' outpatient experience.
Outpatient RNs will receive a referral bonus when offered by the hospital.
When we are mandated off, we will be the first one called to come in. This is voluntary. We do not have to accept.
Call out patterns. A pattern is now three of the same type of call out. NOT one. Example of a pattern: Calling out every Monday or Friday.